Forghedaboudit Southwest Italian (Closed)
1338 Picacho Hills Dr..
Las Cruces, NM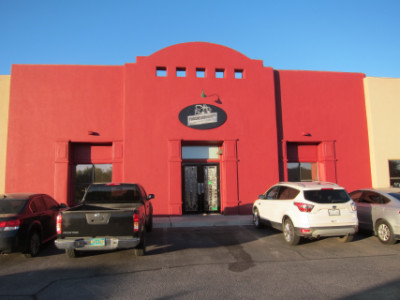 ---
The name Forghedaboudit immediately makes you think of the Big Apple, and it would be a correct assumption that the owners Bob and Kimberly Yacone have brought New York style Italian food to the Land of Enchantment. The restaurant had its beginning in Deming, New Mexico, and its second location in Las Cruces has now become the restaurant's sole premise (Bob explains that his main reason for moving was because of family).
The reason I came to Forghedaboudit, or even knew about it, was because of Gil Garduño's definitive review of the restaurant on Gil's Thrilling (and Filling) Blog. After he and his wife tried the original restaurant in Deming they were so impressed they came back to the new restaurant, dining here on two consecutive days in order to try as many dishes as possible.
There seem to be few items at Forghedaboudit that Gil does not proclaim as being "the best he ever had." I would likely say this was hyperbole except for the fact that I had a similar experience. It is not that Forghedaboudit is the best Italian restaurant I have ever experienced, but that the restaurant has a high standard and that many items are flavored just the way I think they should be.
I will say that I had to figure out how to even be able to come to the restaurant. When I went on a Saturday night there were at least three large parties (and possibly more that had been there previously). I found out that the only way to get a reservation was on line, and when I arrived it was obvious that they had their hands full with the large parties. There were tables available, and my party got very good service, but it is just that you need to work with them when they are busy. One thing that has nothing to do with whether or not they are busy is the fact that they do not have menus, but whatever they are serving at the time can be scanned on your cell phone.
First Things First

When I came the majority of diners were not actually in the dining room, but there were quite a few diners on the patio as well as at a large table in the small dining room where the salad bar is located. I did not check out the drink menu, but they seem to have just about anything you would want.
Although I thought I might as well get the salad bar because it did not cost very much, this turned out to be an unexpected treat. The salad was the ultimate in freshness, and has just about every ingredient imaginable that you would actually want to put in a salad. I took this photo before I added the dressing, but the ranch dressing I added was probably the best I have ever eaten (or at least tied). With salad bars becoming a thing of the past at many restaurants, it is nice to know that there is a very good one here.
When I tried the Soup from the salad bar I thought it was the best that I had ever eaten (in this case not really tied with others I can remember). There may be others that are now buried in the recesses of my memory that were better, but in any case just the soup would be enough to make me want to come back to Forghedaboudit. This was a vegetable soup where the veggies tasted absolutely fresh, and had just the good part without stems or the more chewy parts that are many times found in vegetable soup. The flavor of the broth was equally notable (this is an example of how the restaurant turns ordinary items into ones that are memorable).
We were served Pizza Crust as an appetizer which was another item I liked best about the meal. This was so full of flavor that I have to believe that the crust, rather than merely being something that holds the pizza together, would be one element that makes it a special experience.
Main Courses

My main course of Christmas Pasta shows how the restaurant likes to experiment with items to make them "Southwest Italian." It couldn't be much more Southwest than with a dish that includes green chile. I did not think the experiment was entirely successful in that the red sauce and green chile did not seem to go well together, but after determining that this was the case I ate the red and green parts separately, and voila–I had a really good dish.
The really, really good part of this dish, though, was the meatballs. These are definitely among the top meatballs I have had anywhere. In addition to the excellent flavor, they were missing things like fat and gristle. Many plates come with optional meatballs, and I definitely recommend getting them.
I also had a bite of the Four Cheese Ravioli which was on the menu that night. One thing this showed me was that really everything served here is good, but another was that I think I would like a dish here even better if it had cheese in it (mine did not). This is not a knock on the restaurant, but just a clue about what I need to order next time.
Dessert

The Tartufo dessert–spumoni ice cream covered with chocolate, is an example of the way the restaurant takes extra steps to give you an excellent experience. The three flavors of ice cream inside would be enough, but the chocolate shell is really what makes this a special dessert for me. I also think it is made with a liqueur, but there are so many flavors going on I am not sure.
Other Comments
I definitely want to avoid saying things such as some of the items here being the best I have ever eaten because I might be perceived as exaggerating, and because it might lead to disappointment on the next visit. Actually this is a joke–I am just teasing Gil for saying everything here was the best he ever ate.
One thing for which I have great expectations on possible future visits is the pizza. If the crust is as good as the one I tasted, the red sauce is as good as the one on my dish, and the meatballs are an indication of how their toppings will be, this has to be a great pizza. Add the cheese and this is bound to be about as good as it gets at Forghedaboudit.
One thing I consider to be a positive here is that the menu is constantly changing (there are core items but the specials are ever evolving). As they say in the financial industry, "past performance is not an indication of future returns." I think, though, that this place will get even better as I learn what I like to order and on occasion get wowed by some of the chef's special dishes.
---
RATING: 26
Cuisine: Italian
Cost: $$$
Hours: Dinner only; closed Sun & Mon (but hours have changed several times since I started tracking it)
Accessible: Yes
Smoking: No smoking
Alcohol: Full Bar
Most Recent Visit: May 21, 2022
Number of Visits: 1
Best Items: Four Cheese Ravioli, Salad Bar (especially the soup), Meatballs, Pizza Bread, Tartufo
Special Ratings
| | |
| --- | --- |
| | Four Cheese Ravioli |
| | Christmas Pasta |
| | Salad |
| | Tartufo |