Fat Dragon

8650 Spicewood Springs Rd.
Austin, TX
(512)
258-7587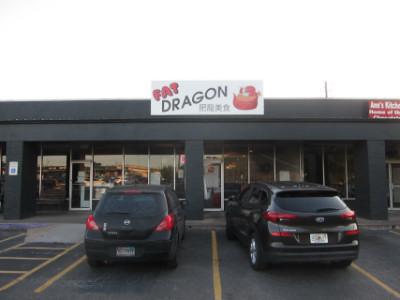 ---
My visit to Fat Dragon was an attempt to find the same type of food that I had at Jeng Chi in the Dallas area, i.e. to have another experience with xiao long bao (soup dumplings). The short answer to this is that I was not disappointed by my visit to Fat Dragon.
Fat Dragon is a small restaurant (much smaller than Jeng Chi), yet it has just about the same number of items on the menu. I grabbed a take-home menu and without doing an exact count, Fat Dragon has about 200 menu items (not including drinks and dessert). Both restaurants seemed to be a combination of Shanghai and Sichuan food (xiao long bao comes from the Shanghai region). The menu here says that it has "Dumplings, Ramen and Authentic Asian Food" and has a wide variety of items but I think its specialty is the dumplings.
Fat Dragon is mostly self-service. It is small, casual, and has prices that make it very popular for diners who want to come in for an informal meal as well as a large number of takeout and delivery orders that I observed being filled.
Dumplings

There are 13 items in the "Dumplings" section of the menu. The first one listed is "Original Pork Soup Dumplings" (Xiao Long Bao). They also have a spicy version of the soup dumplings (the second item on the "dumplings" menu).
Soup dumplings have soup cooked inside the noodle so that the idea is to break open a small opening and suck the soup out. The flavor can still be in your mouth when you eat the rest of the dumpling (or possibly other people have other methods of eating it, but the point is to experience all these delicious flavors at the same time).
While Jeng Chi gave me a large spoon to hold underneath so I did not spill any of the soup, Fat Dragon puts the dumplings in a little cup so that you do not lose the juice.
I will have to say that I thought the dumplings here were even better than the ones in Dallas. These have the kind of special flavor that causes people to write about them in their reviews and recommendations about the restaurant. However it is supposed to be made, Fat Dragon does it the right way.
The issue with Fat Dragon, though, is that it does not have a ginger dipping sauce such as I had at Jeng Chi. Here they had a soy sauce dip so I missed the ginger sauce. However, I have a hard time saying one restaurant is better than the other–Fat Dragon had dumplings that I thought were better but Jeng Chi had a sauce that I thought perhaps made those better.
Shredded Pork in Garlic Sauce

I ordered Shredded Pork in Garlic Sauce in order to mirror the meal I had at Jeng Chi in Dallas. There are actually a number of items on the menu that look very good and are not available anywhere in El Paso or a number of other cities, so this is a good opportunity to try new Chinese dishes if you wish.
The shredded pork was very different from most I have tried–it was very light with almost a red color, while this dish usually has a dark sauce. I thought this dish was very good and better than most of the shredded pork dishes I find, but not as good as the one at Jeng Chi in Dallas. This was further confirmation, though, that even though this restaurant and the one in Dallas are very similar, they each have their own recipes for the individual dishes.
Tea
The tea is self service (you pour your own) and it is free. I had a very good hot jasmine tea with the meal.
An Assessment
This restaurant is very much on the authentic side, and I think it takes some knowledge in order to get the best dishes (such as xiao long bao), but this can be gained by reading the reviews on sites such as Yelp and Google Maps. The staff is also ready to help.
There is no question that the food is very good here. This is not your average Chinese restaurant, but is one of several in what seems to be Austin's sprawling suburban "Chinatown" where you can get authentic food. One of the very appealing aspects of this restaurant, though, is that the prices are very good.
I have to say that I was more than pleased with this particular experience of Austin Chinese food.
---
RATING: 26
Cuisine: Chinese
Cost: $$
Hours: Open Daily
Accessible: Yes
Smoking: No smoking
Alcohol: Beer and Wine
Most Recent Visit: May 27, 2022
Number of Visits: 1
Best Items: Original Pork Soup Dumplings, Shredded Pork in Garlic Sauce
Asian Food Details