Louie Mueller Barbecue
206 W. 2nd St.
Taylor, TX
(512) 352-6206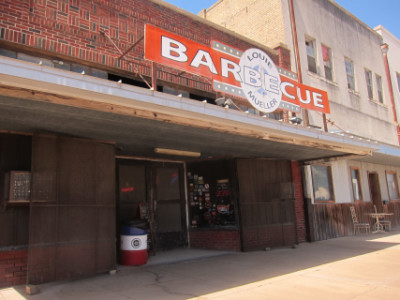 ---
Louie Mueller Barbecue is one of the oldest and most popular of the long time barbecue places in central Texas (and may be the epitome of the "Old School" places). Some of Louie Mueller's operations that I think might be classified as old school include having all of the day's meats available at opening time, keeping each one available until it sells out, selling meat by the pound, serving the meat on paper, and having pretty much the same menu every day.
When I lived in Austin I had very little, if any, contact with old school places. I was a big fan of brisket, though, which I think is the most popular item at both the old school and other restaurants. This is a meat that never seems to be quite right anywhere outside of central or east Texas, and even in Austin is of variable quality. Most reviews indicate the brisket is a specialty of Louie Mueller Barbecue.
I got to Louie Mueller Barbecue later than planned, so there were no crowds or lines out the door. If there had been, it would have been through the door shown in the above photo. Inside is a long ordering line (much like a cafeteria) where you place your order, get your drinks, pick up the order, etc. The room has been so permeated by the smoke from the cooking process that customers have an immediate olfactory confirmation that they are in the right place.The ocular senses pick up the well worn wood paneled decor along with the amount of memorabilia befitting a building that is now in its eighth decade of operation.
Through the doors on the left of the serving room is an air conditioned dining room. This sets Louie Mueller's apart from many old school places which provide outdoor picnic tables for diners or else you are on your own. I am not sure if the air conditioned room can accommodate all the crowds of customers who sometimes come at one time, but it is large enough that I would not underestimate its capacity.
I came with a party of three in the afternoon hoping for the best at such a late hour, but I would be grateful for any experience with Austin area barbecue. The lady apologized that she only had brisket and burnt ends. Brisket was actually what I had come to experience, and burnt ends are something I do not think I had eaten anywhere, so this would be a good experience as well.
Meat was ordered by the pound (in quarter pound increments) and speaking only for myself, I was not totally familiar with doing it this way (although the few times I have been to Rudy's this has been the methodology they have used). I ended up with too much food and collectively it was the same, although we did make a good dent in it. If I had not been deprived of Austin barbecue for so long I probably would have made a more limited selection with some tea, and would have been totally satisfied. Between the three people in my party I think we ordered enough to feed a phantom fourth person, nevertheless we made a good try at eating all of it ourselves..
The Barbecue
This photo shows mostly side dishes, but it does give an indication of the amount of food we tried to consume. The meat consisted of lean brisket, marbled brisket, and burnt ends. I think I am glad we did not come earlier when there were more choices. We had wanted to try the beef ribs, although the employees told us that we would have had to come much earlier than it would have been possible to do on this trip (they last roughly one hour past the opening time on weekends and Fridays before Memorial Day which was the time I picked).
I ended up ordering Marbled Brisket which was recommended by some of the employees (at that hour there were so few of us in line I think we got more help from the staff than we probably would have normally). This was a learning process for me because at other restaurants they had just served "brisket" (not lean or marbled).
Between the three of us, though, we ordered all of the meats and shared them so that I also got to try the lean brisket.as well as the burnt ends. With these two meats being new to me my first thought was that the Lean Brisket tasted like the brisket which was familiar to me in my past Austin barbecue experiences, and that the meat here was as good as any of them. By default this would make Louis Mueller's brisket tied with the best I have ever eaten, because I think there is none better than what I have found in the Austin metro.
The Burnt Ends (shown in the left center container in the photo below) were a totally different experience with the operative word being "fatty," and with the idea that the fat adds flavor. I thought these were a great complement to the brisket, but not what I would like to order as my first choice. The idea at barbecue restaurants is that brisket takes great skill to cook correctly, while you almost can't mess up burnt ends. At someplace like Louie Mueller's they will not mess up the brisket and this will likely be my favorite meat (although I have not yet tried the beef ribs). This restaurant will not mess up the burnt ends either, so you can try them both (and I think appreciate the contrast between them).
As far as the two types of brisket, I felt as if the lean brisket was the traditional one that I have found at restaurants over the years, and I still like this one. The marbled brisket might very well have been better, but on this trip where I was in somewhat of a rush I think I was in the process of scarfing down the food and did not fully appreciate the fatty version as I think is intended for this type of meat. I liked the lean meat better, but here it is all good, and fans of the fatty meat seem to think that Louie Mueller's is one of, if not the very best (but I cannot confirm this because to date this is the only one I have tried).
Side Dishes
The two side dishes I ordered turned out to be my favorites–Cole Slaw and Banana Pudding. The pudding was a different style than I had found at other places, and one thing I liked about it was that it was not as sweet. With the Cole slaw I think it was just that the dressing was particularly good.
Some other side dishes (such as potato salad and mac & cheese) are probably not really meant to last until this late in the afternoon. The beans were just not as flavorful as the ones I find in just about any barbecue place in Oklahoma City or El Paso. I do not think I can make a fair assessment of the side dishes when I try them just before the restaurant's closing time, but I can say that I thought the cole slaw and banana pudding were as good as ones I have had anywhere.
Other Comments
The barbecue seemed to be just as good in the afternoon as at the opening hour, but I would not know for sure unless I also tried them early in the day. Perhaps on another trip this can be accomplished. Many of the side dishes, though, seemed to be past their prime. Do not be scared off by any of my lower four-star ratings if you go at an earlier hour like normal people do.
I must say that the sauce was quite good–maybe better than any I have had in Oklahoma. It may be partially because they would tend to make it specifically for brisket–the area's most popular meat (while in Oklahoma it would probably be made more for pulled pork, pork ribs, etc.). This is one more thing I can begin to analyze as I try barbecue in different places.
I also have to say that the staff and other people at the restaurant were more than friendly and went out of their way to help the "greenhorns" with their barbecue experience.
Despite coming when they were out of many of the meats and some of the side dishes did not seem to be at their best, this was still one of my best barbecue experiences ever. This is because I really like brisket, and not too many places are able to prepare brisket this good.
Uncovering Additional Information
A review of Joe's Kansas City Barbecue (Kansas City, KS) stated that it was hard to find burnt ends without sauce already on them, and this was one factor that made them so good at Joe's. I do not know if Austin, unlike Kansas City, usually serves them without sauce, but they were this way at Louie Mueller's (as it is with all of the meats here). I know that the "Texas way" to serve brisket is without the sauce, because the meat should be good enough to stand on its own. I think the fact that the burnt ends are served without sauce is another reason to try them here, and every indication is that they stand up well to the best of them in other restaurants across the country. Of course you can always add you own sauce if you wish.
---
RATING: 26
Cuisine: Barbecue
Cost: $$-$$$
Hours: 11 am to 4 pm Wed-Sat only.
Smoking: No smoking
Alcohol: No
Most Recent Visit: May 27, 2022
Number of Visits: 1
Best Items: Lean Brisket, Marbled Brisket, Burnt Ends, Banana Pudding, Cole Slaw, Sauce
Special Ratings

| | |
| --- | --- |
| | Lean Brisket |
| | Marbled Brisket |
| | Burnt Ends |
| | Cole Slaw |
| | Potato Salad |
| | Beans |
| | Mac & Cheese |
| | Banana Pudding |
| | Barbecue Sauce |