Louie Mueller Barbecue
206 W. 2nd St.
Taylor, TX
(512) 352-6206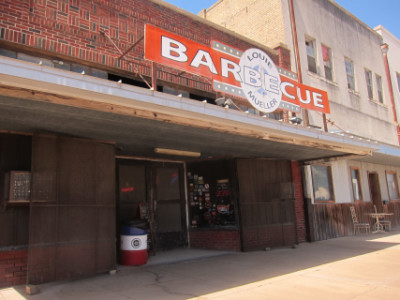 ---
Louie Mueller Barbecue is one of the oldest and most popular of the long time barbecue places in central Texas (and may be the epitome of the "Old School" places). Some of Louie Mueller's operations that I think might be classified as old school include having all of the day's meats available at opening time, keeping each one available until it sells out, selling meat by the pound, serving the meat on paper, and having pretty much the same menu every day.
When I lived in Austin I had very little, if any, contact with old school places. I was a big fan of brisket, though, which I think is the most popular item at both the old school and other restaurants. This is a meat that never seems to be quite right anywhere outside of central or east Texas, and even in Austin is of variable quality. Most reviews indicate the brisket is a specialty of Louie Mueller's Barbecue.
I got to Louie Mueller's later than planned, so there were no crowds or lines out the door. If there had been, it would have been through the door shown in the above photo. Inside is a long ordering line (much like a cafeteria) where you place your order, get your drinks, pick up the order, etc. The room has a now famous smell of smoke so that you can be sure your are in the right place. Through the doors on the left of the room is an air conditioned dining room. This sets Louie Mueller's apart from many old school places which provide outdoor picnic tables for diners or else you are on your own.
I came with a party of three in the afternoon hoping for the best at such a late hour, but I would be grateful for any experience with Austin area barbecue. The lady apologized that she only had brisket and burnt ends. Brisket was actually what I had come to experience, and burnt ends are something I do not think I had eaten anywhere, so this would be a good experience as well.
Meat was ordered by the pound (in quarter pound increments) and speaking only for myself, I was not totally familiar with doing it this way (although the few times I have been to Rudy's I have had to order it this way). I ended up with too much food and collectively it was the same, although we did make a good dent in it. If I had not been deprived of Austin barbecue for so long I probably would have followed a procedure similar to the one I had at Iron Works Barbecue–order a sandwich, get a side and some tea, and that was it. If I were a regular at Louie Mueller's I assuredly would have a similar routine.
The Barbecue
This photo shows mostly side dishes, but it does give an indication of the amount of food we tried to consume. The meat consisted of lean brisket, marbled brisket, and burnt ends. I think I am glad we did not come earlier when there were more choices. We had wanted to try the beef ribs, although the employees told us that we would have had to come much earlier than it would have been possible to do on this trip (they last roughly one hour past the opening time on weekends and Fridays before Memorial Day which was the time I picked).
I ended up with Marbled Brisket which was recommended by some of the employees (at that hour there were so few of us in line I think we got more help from the staff than we would have normally). It turned out that this was really my least favorite of the meats, and that the brisket I remembered from the past at Iron Works and other places fell more into the lean category. To me the extra fat really did not add any more flavor, and I did not see how this meat was special.
Luckily, though, we all shared our meats so I got to try the Lean Brisket. This was as good as any brisket that I had remembered in barbecue experiences past. I suspect, though, that if we had arrived earlier in the day it would have been better. In any case, it was demonstrated to me that Louie Mueller's belongs on the list of best Texas barbecue places (as it is regularly by Texas Monthly and other lists).
I had also ordered some Burnt Ends (shown in the left center container in the photo below) which I shared with my friends. One of them thought this was the best meat served, and I thought it was in second place just below the lean brisket. This is the first time I had eaten burnt ends anywhere so I had nothing with which to compare it, although I can say it was quite good.
Side Dishes
The two side dishes I ordered turned out to be my favorites–Cole Slaw and Banana Pudding. The pudding was a different style than I had found at other places, and one thing I liked about it was that it was not as sweet. With the Cole slaw I think it was just that the dressing was particularly good.
Some other side dishes (such as potato salad and mac & cheese) are probably not really meant to last until this late in the afternoon. The beans were just not as flavorful as the ones I find in just about any barbecue place in Oklahoma City or El Paso.
Other Comments
The barbecue seemed to be just as good in the afternoon as at the opening hour, but I would not know for sure unless I also tried them early in the day. Perhaps on another trip this can be accomplished. Many of the side dishes, though, seemed to be past their prime. Do not be scared off by any of my lower four-star ratings if you go at an earlier hour like normal people do.
I must say that the sauce was quite good–maybe better than any I have had in Oklahoma. It may be partially because they would tend to make it specifically for brisket–the area's most popular meat (while in Oklahoma it would probably be made more for pulled pork, pork ribs, etc.). This is one more thing I can begin to analyze as I try barbecue in different places.
I also have to say that the staff and other people at the restaurant were more than friendly and went out of their way to help the "greenhorns" with their barbecue experience.
I am not rating the restaurant because we went at what is possibly the worst possible time for food quality, although I thought the brisket and burnt ends were quite good and deserved the praise they got from the various "Best of Texas" barbecue lists.
---
RATING: N/R
Cuisine: Barbecue
Cost: $$-$$$
Hours: 11 am to 4 pm Wed-Sat only.
Smoking: No smoking
Alcohol: No
Most Recent Visit: May 27, 2022
Number of Visits: 1
Best Items: Lean Brisket, Burnt Ends, Banana Pudding, Cole Slaw, Sauce
Special Ratings

| | |
| --- | --- |
| | Lean Brisket |
| | Burnt Ends |
| | Marbled Brisket |
| | Cole Slaw |
| | Potato Salad |
| | Beans |
| | Mac & Cheese |
| | Banana Pudding |
| | Barbecue Sauce |