Tasty Kabob

6110 N. Mesa St.
El Paso, TX
(915) 
234-2255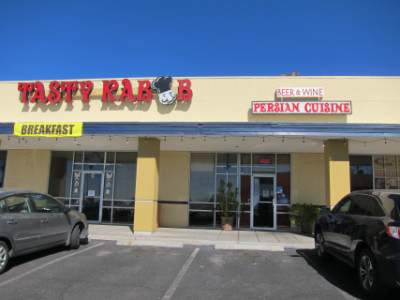 ---
Tasty Kabob is not the first Persian restaurant to open during the time I have been in El Paso, but its quality is certainly reflective of the fact that the ethnic food in the city is on an upward trend in both variety and being at a high level of flavor and authenticity.
For a while this small restaurant with an address on Mesa Street but not really visible from Mesa Street seemed to be getting most of its business from word of mouth and locals who discovered another favorite restaurant. I think activity picked up quite a bit after Tasty Kabob was featured on Season 30 of Guy Fieri's "Diners, Drive-Ins & Dives" as one of his six El Paso picks. I have never seen the dining room full with a waiting list for a table (as some the city's popular restaurants seem to be) but it does seem that at least now enough people know about it to keep a constant stream of customers.
Ghorme Sabzi

In describing what is particularly good about a Persian restaurant I point to its uniquely Iranian dishes that are not found in other Middle Eastern countries. Eshrat, the owner/chef points to the fact that the food here is from her native area of northern Iran near the Caspian Sea. I do not know if northern Iranian food is better than it is from other parts of the country, but I do know that It is always a good sign when the chef is trying to stay true to the food as it is prepared in its native country.
One of the uniquely Persian dishes here is Ghorme Sabzi. The best way I could describe this dish is that it tastes like parsley, but the flavor becomes very complex with the other ingredients that are mixed in. There is the fruity flavor of sundried limes, along with tender chunks of beef and kidney beans made with the traditional recipe. Other ingredients include spinach and fenugreek (I understand that it has to have this last ingredient in order to be considered a true ghorme sabzi, and it has to be ordered from California).
One thing I also like about this dish is the huge plate of basmati rice you get with it, making it even easier to enjoy my green vegetables. Some things are unexplainable, such as why I was not a fan of vegetables growing up but I did like spinach, and why this dish is at the top of the list of vegetable dishes I now enjoy. I just accept that it is so and enjoy this dish when I am able to have it.
Khorest Ghimei

Khoresht Gheimei is a delicious dish of grilled eggplant with beef chunks, peas, dried limes, and tomato sauce. I think the french fries are also traditional because I have had it served the same way in other restaurants. Eggplant is not usually my favorite vegetable, but the way it is prepared here is very flavorful.
Lamb Chops

To me the Lamb Chops are what you get here when you want a special treat. The order pictured is one I shared, and it was so good I consider it almost like a Christmas or Thanksgiving dinner. The way the meat is marinated and seasoned, though, might very well make you consider this as being better than most other special occasion meals.
I need to point out that the order comes with three lamb chops but Eshrat thought the third one was too small, so she gave us four. I have found this type of hospitality to be typical of the restaurant.
Other Menu Items
Kabobs are the most prominent feature of the menu, and this was Guy Fieri's recommendation, but for now it is on my list of items I would like to try.
A large selection of Middle Eastern appetizers are available, but I would warn that all the meals I have had here have been quite filling, and unless I am with a group I would probably not feel the need for an appetizer (some friends did help me with the Mast-o-Musir yogurt appetizer, though).
The Sampler includes several items that are appetizers by themselves, but together it is more than enough for a meal. Normally this would be one of the first meals I tried at a Middle Eastern restaurant, but in this case I have so far concentrated on the Persian specialties (ghormeh sabzi, khoresht gheimeh, lamb chops, etc.) and I took a photo of the sampler that my dining companion tried.
Another item which I photographed but did not sample was the salmon plate, which along with some chicken, beef, and veggie kabob plates provides additional variety to the menu.
There is a special meal on the menu called the "Tour of Persia" serving 3 to 4 people and offering several Persian entrees including a bone-in chicken kabob plate.
Overall Comments
To me you have the best of both worlds here–the food is top notch while the ambiance made it a candidate for a show about diners and dives, and it has the personalized service to match.
One thing I did not mention about some of the Persian specialties such as ghorme sabzi is that they have a substantial amount of meat, but the bulk of what you are eating is vegetables (and an ample supply of rice is included as well). This is one type of food that I classify as being healthy and delicious at the same time.
---
RATING: 25
Cuisine: Persian
Cost: $$
Hours: Closed Sun. evening and Tue.
Smoking: No smoking
Most Recent Visit:Jan. 26, 2022
Number of Visits: 5
Best Items: Lamb Chops, Ghorme Sabzi,
Special Ratings

| | |
| --- | --- |
| | Ghorme Sabzi |
| | Khorest Gheimei |
| | Lamb Chops |
| | Basmati Rice |
| | Salad |