Pelican's Steak & Seafood

130 Shadow Mountain Dr.
El Paso, TX
(915) 581-1392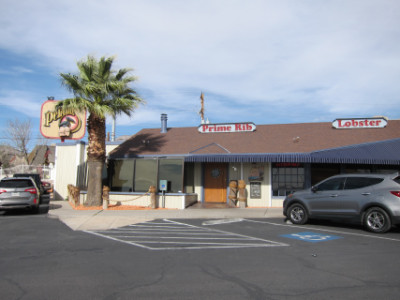 ---
Pelican's has been around for so long that it is somewhat of a stereotype for an old school steak and seafood restaurant (actually their web site says it has been operating for around 40 years as of 2022). I would not say its longevity is a negative thing–actually it means they are doing something right. This was always a favorite special occasion restaurant for my family, and a recent visit demonstrated that it is as popular as ever.
Pelican's is also a chain–the El Paso restaurant shares a web site with two restaurants in Albuquerque (one of which has been temporarily and perhaps permanently closed). I have known for years that there is also a location in a town where I lived when I was little–Midwest City, Oklahoma. In this case it looks like a franchise because it uses the Pelican's logo but it has a different web site. Being part of a chain, though, may not be a big factor in the quality of the food–at these prices the customers would not be there if they were not satisfied with what they were getting.
My early impressions of Pelican's were that it was good, but that they just could not pull off having upscale seafood in the middle of the desert because of the obvious logistics problems. Starting about 2000 I started noticing that inland restaurants were getting fresher seafood, and I do not know if this was because of better ways to ship it or strictly because of the economics of it. Still, I think it is the case that every restaurant away from the seaports can now get better quality fish if they go to the trouble of getting it transported the right way.
My latest visit to Pelican's (post-pandemic) has shown me that they have good quality fish, and I think the improvement has been a long term trend. Of course the seafood in El Paso is not going to be like it is in Boston or Newport Beach (both of which are experiences which I use as yardsticks for judging seafood). Pelican's does seem to be better now, though, than in the past.
"Before the Pandemic"
When I first started taking notes about the food at Pelican's it seemed that the fish was not entirely fresh (something understandable for a restaurant located this far from the ocean). While I think my observations were correct, I have not tried all of the same items again to make a comparison and write an update. I will say, though, that based on my most recent visit it is likely that much of the food is better than it was previously.
These three items are ones my party ordered in 2008, and which give somewhat of a sample of the food served. The Shrimp was something I found to be very good for El Paso, particularly for it lack of being greasy. From looking at the potato I can tell that this was one of the main reasons I liked the meal, but the shrimp was pretty good as well.
The Halibut Special was a "catch of the day." I thought this was a fairly good fish made better by the green chile topping. This was a "catch of the day," but probably not in the true sense where someone went out in a boat that morning to catch the fish. Still, I understood that this was a fish that was not on the menu and not always available (and with fish I am not sure I want it to be always available if they cannot maintain an acceptable level every time it is served).
Out of these three items the Oysters Rockefeller was the one that I found to be least impressive. Because of a lack of writing down details about it, though, I would say "no comment" and I am just showing the photo.
Other Early Experiences
As if my experience from 2008 were not exciting enough, there are earlier ones as well (before I began taking photographs of the food). These even go back to the time when they allowed smoking in the bar, and I would guess that the whole logistics of transporting seafood to El Paso were different then.
When I had the Fresh Alaska King Salmon I noted that was a "catch of the day." I thought it tasted more like "frozen Atlantic salmon," but the saving features of it were the seasoning and the fact that it was cooked very professionally. I made the comment that I thought Pelican's was generally more adept at preparing mild white fish which were their big sellers (and which tasted fresher). They seemed to do well at cooking fish such as salmon, but perhaps this fish was not as fresh to begin with.
Recent Visits

One item I have always liked at Pelican's is the Salad. Before the pandemic they had a salad bar where you could take all you wanted. Now it is a "Bottomless Salad" where your server either brings you the default salad or the particular items you want. If you want more you can have another serving (for me one serving was enough as far as the quantity of salad I got). The salad is fresh and I have always enjoyed the house made ranch dressing.
I had the Clam Chowder with the salad in a combo order, so technically it would be impossible to go away hungry because you can get all the salad you want. By itself, though, the bowl of chowder was not something that I think would be filling enough for a meal. The chowder was New England style, and probably because of this I thought the flavor was very good. I also thought it had a freshness that contrasted with some of my earlier experiences with the seafood.
I liked part of the Fish and Chips, that part being the fish. I thought the fish tasted fresh and the breading was good. It was also far less greasy than similar dishes I have had at a multitude of other restaurants.The fries were not greasy but I did not think they were up to the standard I have found in Irish pubs and other places that serve fish and chips.
The fish and chips come from the "This & That" menu and I think are not meant to be a meal unless you come at lunch. Customers are certainly under no obligation, though, to order one of the larger and more expensive dinners, and I think the fish & chips make a great meal for either lunch or dinner (although I think I would recommend to at least get a salad with it).
Summing It Up
Gil Garduño wrote a review of the Albuquerque Pelican's in 2010 stating that:
Pelican's is a very solid, if unspectacular restaurant that has survived nearly four decades and several generations in the Duke City's constantly changing dining scene.  It deserves a place in any conversation about good seafood in Albuquerque.
This was the same feeling I had about the El Paso Pelican's in 2010, except that Gil states it much more eloquently. From my latest visit, though, I would say that I am a little less adamant in calling it "unspectacular."
---
RATING: 23
Cuisine: Seafood & Steak
Cost: $$$
Hours: Open Daily (Dinner only, but also serves lunch on Sun.)
Smoking: No Smoking
Alcohol: Full Bar
Most Recent Visit: Jan. 25, 2022
Number of Visits: 10+
Best Items: Fish & Chips, Clam Chowder, Salad