Sutton County Steak House
1312 N. Service Rd.
Sonora, TX
(325) 387-3833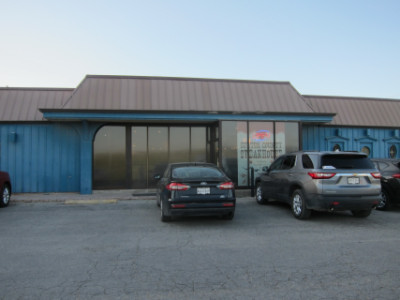 ---
Eating in a small town is always a crap shoot because sometimes there are very good restaurants that people take for granted because it is all they have, and sometimes the restaurants are mediocre but people like them because it is all they have. Sonora, located on Interstate 10 about halfway between El Paso and San Antonio, seemed to have a very limited number of restaurants for its size. When driving through, though, you have the choice of stopping at Ozona to the west or Junction to the east.
Naturally just about every town in West Texas has a steakhouse, but not all are equal in their quality and variety of food. Sutton County Steak House had better than average reviews, but the number of vehicles parked in front indicated that the reviews might be slightly understated about how good the food actually is. When I entered I noticed a large number of happy customers, with many of them seeming to be regulars (this is more of a local hangout than one that relies on getting travelers to pull off the Interstate for a meal). They are not surprised, though, to see people like me who are passing through.
In the evening hours there was no salad bar (a popular item with reviewers) but everything else was available. It is primarily an American restaurant with some Mexican items, and even has items such as Polynesian chicken and aloha chicken breast. Because of the current economy the steaks were priced far higher than anything else on the menu, and I think far higher than the owners ever thought they would have to charge. I did not observe anyone ordering them but there may have been some in the smaller dining rooms that were not visible from the main room where I was sitting.
The rest of the menu had a surprisingly large variety of items that were also modestly priced. The question was whether this many different types of food could all be good. I do not think they were all five star dinners because the waiter recommended some over others (something I really appreciate when a restaurant will do this for me). There did seem to be very good dishes of all types of food, and this is certainly not a restaurant where only the steak will give you a great meal.
Chicken Fried Steak

I could not wait to order a Chicken Fried Steak once I was in the part of the state where this is practically the official state food. The waiter threw me off a little bit by recommending the chicken fried chicken, but it turned out that this was just for those who wanted a change from the normal steak.
I used to live in Austin where I have had very good chicken fried steaks too many times to count, and probably most of them were better than here. They were not orders of magnitude better, though, but it was just in subtle things. The steak here was certainly good (on the level of many in Austin). The gravy here had a good quality but I would say I was used to more flavor. The crust, though, is where this one really hit the mark. The waiter explained that it was made with buttermilk–I found it to be moist and crispy at the same time, and very delicious. Incidentally the gravy was underneath the steak, and not very visible in the photo (but they give a generous portion).
Out of a long list of possible side dishes the waiter suggested the Veggies. I was more than a little skeptical about this but they turned out to be extremely good–fresh, and not too soggy or too crispy.
Quesadilla

I had a sample of the Chicken Quesadilla which turned out to be solid in terms of freshness and quality. Even the flavor was very good although I think many restaurants in El Paso make it more flavorful (but probably with a few additives that do not exactly come from Whole Foods or Sprouts). I am not one that should talk about eating healthy food when I ordered a chicken fried steak, but many details about the food here (including the veggies they gave me as a side dish) indicate that one way the restaurant is trying to keep its customers is by helping them avoid trips to the hospital through a much too typical American diet.
Other Comments
This is a modestly priced restaurant with a large variety of items that seems to balance flavor and healthy ingredients in a way that you get the best of both. I think if you ask the wait staff for recommendations, though, you would get a better meal than just picking things at random from the menu.
I think that for many people, though, the steaks are something that they hope they will again be able to afford someday. Of course I do not blame the restaurant for this, but rather I think they have done their best to keep prices down on a number of other items.
---
RATING: 23
Cuisine: Steakhouse
Cost: $$
Hours: Closed Sat; Closed Sun evening, Closed Tue evening; Closed from 2 to 5 pm
Smoking: No smoking
Alcohol: Beer and Wine
Most Recent Visit: May 26, 2022
Number of Visits: 1
Best Items: Chicken Fried Steak, Vegetables
Special Ratings

| | |
| --- | --- |
| | Chicken Fried Steak |
| | Chicken Quesadilla |
| | Veggies |