Der Lindenbaum
312 E. Main St.
Fredericksburg, TX
(830) 997-9126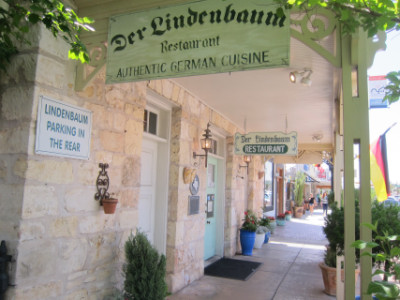 ---
Although I had been warned that Fredericksburg was a tourist trap, circumstances led me here, and who am I to fight circumstances? There are several German restaurants in town, mostly along Main Street. Reviews were mixed about all of them, and and it seemed best to just choose whatever looked good (and wherever parking was available).
The goal was to eat light since I had plans for more food later in the afternoon, but the best option available was the bratwurst. It was a dinner (a la carte was not available), and although it was not exactly a light lunch it was not nearly as heavy as some other items.
The Food
Pictured in the photo is a takeout dinner of bratwurst. Although the goal was to have a quick meal and get on the road, there was also a monetary saving with a takeout dinner. The cost of the German food in Fredericksburg is really what makes them a tourist trap, but surprisingly to me, the food was quite good.
The Bratwurst was lean with a very good flavor. I seldom encounter bratwurst of this quality, and I thought this was a good find.
I really do not know what the Potatoes were all about. I have not seen this type of potatoes in other German restaurants and I did not find them very flavorful. They were not bad but just perplexing.
I do not remember ever having Sauerkraut as good as this. The spices were perfect, and had a visible amount of caraway seeds and bay leaves. I believe the main reason for its quality was that it had been through the entire process of preparation so that it was smooth and did not have a sour taste.
The mustard had a good flavor as well.
Other Comments
The restaurant looked comfortable, and had a varied menu. The reviews say there is another restaurant in town that has a more "modern" menu (and is described as modern German food). All I know is that both the bratwurst and sauerkraut at Der Lindenbaum were among the best I have ever had. For me I think it would be worth coming here for a full dinner service just to get sauerkraut that is this good.
---
RATING: 24