Smash N' Roll

5001 N. Mesa St.
El Paso, TX
(915)
249-6565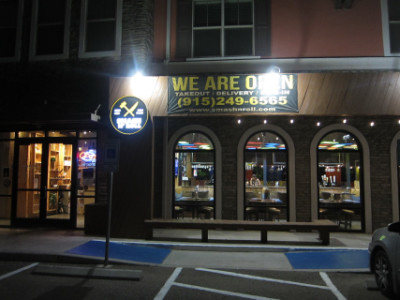 ---
Probably the best way to describe Smash N' Roll is to call it bar food. Its biggest seller seems to be burgers, and they have a number of versions of it (including Hawaiian, veggie, and even a chicken sandwich listed under the "Burgers" section). The second longest section of the menu is the tacos. Other choices include Philly sandwiches, hot dogs, and sides that are sizeable enough that you can make a meal out of them.
The restaurant is located in the Montecillo area–a mixed-use development of apartments and businesses that I suppose my generation would call "hip." Smash N' Roll and the surrounding area, though, does not seem as if it is designed for just the younger generation, and the restaurant had music and a vibe that I think make it appealing to all ages and types of people.
My first visit happened to be during their late night hours (they are open until 10 p.m. Thursday through Saturday), with it not being rowdy and making a pretty laid back place to eat.
It seems that they are also adding specials to supplement the menu items. One of these was the dinner I ordered (quesabirria), but there are other specials as well such as beer battered fish tacos. Smash N' Roll started as a food truck and still seems to be in the experimental stage for what will ultimately be on the menu.
Quesabirria

According to Wikipedia the Quesabirria dates from 2009 when it was first introduced by a taco truck in Tijuana. It quickly spread to other areas mostly by means of Instagram. There seem to be numerous ways to prepare it, but they all involve beef birria meat that has been stewed for up to 10 hours, cheese, and a consommé in which to dip the taco (the shell is described as a cross between a taco and a quesadilla).
This was my first time to try a quesabirria, and I found it to be quite flavorful. They included an especially flavorful type of cheese that I think really made this dish work well. The meat was very flavorful, and was very well spiced without being overly spicy (you can get an additional kick from the containers of green, sweet, and very spicy salsa they place on the table). The only thing that puzzled me was the consommé which did not seem to have as much flavor as those I have had with the regular type of birria.
Additional Notes
Mexican food is not the restaurant's primary cuisine. They do have tacos but there is not a great variety of them compared to what you would find in most taco restaurants. However, they are south of the border style (not Americanized). The salsa they have here is the real deal (only one of them was off-the-chart spicy but all three were delicious). In fact, it looks as if the reviews for their tacos are better than they are for the burgers.
The concept of being a "bar food" restaurant means that there is a variety of other items and that none of them are expensive. Although I have not tried them, I do have a tip that you might want to order the chicken wings.
---
RATING: N/R
Cuisine: Burgers and Tacos
Cost: $$
Hours: Open Daily except Sun. Evening
Smoking: No smoking
Alcohol: Beer & Wine
Most Recent Visit: Jun. 16, 2022
Number of Visits: 1
Best Item: Quesabirria
Mexican Food Details