Piedmont Cafe

4172 N. Mesa St.
El Paso, TX
(915) 249-6965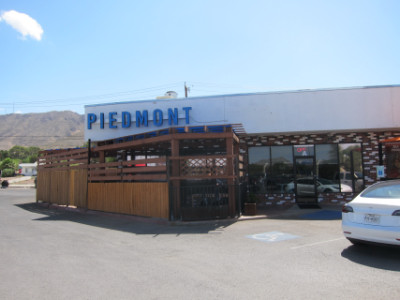 ---
Writing these reviews sometimes requires me to put on a scientific hat and a philosophical hat at the same time (I am not sure what these hats look like or how I get them both on at the same time, but somehow they seem to work). The scientific part of me converts food into numbers–what value do I give to the flavors, what value do I give to the quality of the ingredients, etc. This factor sometimes extends to many little details that I never discuss in the review, but it is always based on the experience I think others will have when they come.
The philosophical side of me thinks about what is important. Sometimes one or two items at a restaurant are really, really good but many other things are less impressive–how do I rate this? Usually I give more weight to the good things and let readers know about what they might not like as much.
Sometimes I find restaurants that are so good that it seems that everything they do is magical–somehow they seem to have a supernatural talent when it comes to cooking. I think one of these is Piedmont Cafe. I have not tried a lot of dishes here, but it reminded me of restaurants such as Matt's in the Market in Seattle, where every morsel on my plate was something I enjoyed. A more recent experience was at Forghedaboudit in Las Cruces, where I believe that exceptional cooking skills were on display.
My rating tends to be based on the best item I ate, so there is not usually a large variation of scores between restaurants with one or two very good items and ones where I know that anything you order from the menu at random is likely to be very good. I do have a special fondness for the places where I can go and know I will be happy with anything I order, though. The scientific side of me does not know how to translate all of these factors of a restaurant into a rating that would make sense, but if I could come up with a score for a "happiness" factor there are definitely some that would score very high, with Piedmont Cafe being one of them.
Like most of the restaurants I know with these kinds of cooking skills, Piedmont Cafe is small (it either has one cook or some fill-ins that are taught well and who use the same ingredients to deliver the same results). Like other restaurants in the same category it is more expensive than most restaurants, but certainly not in the very high price categories that you have to pay for celebrity chefs in the big city markets. Also, in order to have everything served to be good it probably means that they do not put too many things on the menu. In the case of Piedmont Cafe there is a variety of different types of food (they have Southwestern/Mexican, Mediterranean, American, and even some with Asian flavors). Within each category, though, they seem to stick with a few tried and tested items. Breakfast items are available all day, they have burgers, and they have what would normally be considered snacks (such as nachos), but each of these seem to break the normal boundaries of these types of food. I know from experience that both the breakfasts and the burgers are items I would find satisfying for just about any "normal" meal where I have my normal appetite and I want the food to be satisfying flavor-wise.
Breakfast
The Chihuamelet is on the breakfast menu, but could just as easily be an item I would like for other meals (breakfast items are available all day).  This "Chi omelet" is made with three pasture raised eggs, asadero, guajillo sauce, green chili, tomato, red onion, and avocado. I say "chili" because this is how they spell it, but I believe it was locally sourced (where it is usually spelled "chile"). If I had to classify what kind of dish this is I would probably say alta cocina Mexican food. The eggs were offset by so many other flavors that I do not believe it should only be considered a breakfast food. Despite all the chiles it was not spicy as much as it was just very flavorful.
Unlike Matt's in the Market and other restaurants of this caliber, I did not eat every morsel that was on the plate. This is because there was a very hot chile served on the side (in the photo it is in the upper right to the side of the sauce and just below the avocado). A little bit of this went a long way and I was fine with using it sparingly.
There is a choice of side dishes and I selected the fruit cup. This was a demonstration of the quality of the ingredients they use, and I am sure readers are going to guess that this is something I would recommend.
Asian Flavors

I do not think Piedmont Cafe is trying to serve authentic Asian food, but I think they are trying to make it equally good as they do with the Gold Pad Thai Noodles. This involves some choices, with the first one being that you can get beef fajita, chicken breast, pork belly, seitan cutlet, or tofu. I definitely thought the chicken was a good choice although some of the others sound intriguing. The second choice is for egg or tofu (I got tofu but I thought probably the egg would have been better). After this the ingredients are peppers, carrots, red onion, tamarind chili sauce, scallions, pistachios, and limes.
My criticism of this dish was far outweighed by its good points, but I did think it was hard to discern the tamarind flavor. Also, when I go to Thai restaurants I usually add fish sauce and it was not part of this dish. I think what really made this dish special included (but was not limited to) the high quality chicken, the pistachios (usually pad thai has peanuts), and the limes (with so much juice that the two limes here went a long way). I think this could be considered the Thai version of alta cocina–not a totally traditional dish but one that has been upgraded in its quality (and in many ways the flavor is at a higher level). To me this offered a far better experience than many of the "traditional" dishes served in Thai restaurants (which in fact are many times Americanized versions using cheap ingredients).
Burgers
I did not get a photo of the burgers but I had a taste of the Adobe Burger with Hatch green chili (as it is spelled here). Once again this was an example of why I like the food here. I had recently gone to Great American to try the green chile steakburger, but I thought that in almost every way the one at Piedmont was better. Piedmont uses Akaushi beef, which was unfamiliar to me but I was impressed with the flavor. The green chile was probably comparable at both places. One way the burger here was better, though, was with the house queso and chipotle aioli that brought the flavor to a higher level than with most burgers (and which I thought complemented the green chile). I do give Great American credit for having a good burger (actually steakburger) but I thought the flavor at Piedmont was at a higher level.
Drinks

The Lemonade here was very good, although Piedmont by no means corners the market in El Paso for good lemonade.
Additional Comments
I do not really have any additional comments about the food. I just say go, and I feel confident that most people will appreciate the food.
The outdoor patio provides additional seating (and in fact they have two patios). Dogs are allowed, and I understand that dogs are allowed inside the restaurant as well. The potential problem with indoors is that they just do not have very many tables, but I am not sure if it ever becomes an actual issue for anyone who want to sit there.
---
Restaurant Web Site: Piedmont Cafe
---
RATING: 26
Cuisine: New American
Cost: $$$ (but $$ is possible)
Hours: Sun-Tue 11 am to 3 pm; Wed-Sat 11 am to 9 pm
Accessible: Yes
Smoking: No smoking
Alcohol: Full Bar
Special Features: Outdoor patio with dogs allowed (they say dogs are also allowed inside the restaurant)
Most Recent Visit: Jun. 19, 2022
Number of Visits: 2
Best Items: Chihuamelet, Gold Pad Thai Noodles, Adobe Burger
Special Ratings

| | |
| --- | --- |
| | Chihuamelet |
| | Gold Pad Thai Noodles |
| | Adobe Burger |