Revolve Pizza Kitchen

5500 W. Memorial Rd.
Oklahoma City, OK
(405) 792-2858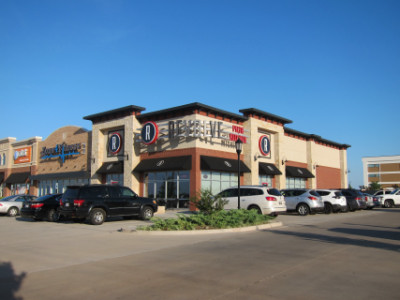 ---
The competition among pizza restaurants in Oklahoma City is fierce, and I think that makes all of them try a little harder to have the best. At Revolve the basics are all good (crust, cheese, quality of the toppings, etc.), but I think the main variable is what you choose for the toppings. Revolve touts the ability to "build your own" pizza, which comes with an almost endless possibilities of toppings (with some other choices such as the crust as well). I was told that you can have as many toppings as you want. I assume that the more you order the less you get of each one, but still this is a good deal compared to other restaurants which seem to make most of their profit when you order more than one or two extra toppings.
The selection of "Signature Pizzas" (where they choose the toppings) is rather limited. Usually I prefer this style of pizza where the combination of toppings is one they have test marketed, but at Revolve it does give an opportunity to create your own that is not found at most restaurants.
I think another advantage Revolve has over some of its competition, though, is its selection of other items such as salad and pasta dishes. Some of these are not only very good, but are comparable to ones in "regular" Italian restaurants.
Revolve offers daily specials where you can either pay less for a meal or get more for your money. They have changed somewhat over time but I have consistently found the best deals to be on Monday.
Probably the best thing Revolve has going as far as I am concerned is that the pizza here is fresh and easy to digest (which I think gives added attraction to the restaurant above the rating I give it for its flavors).
Salads

The Side Salad is very good on freshness and flavor with the only down side being that the dressing could have a bit more flavor. The side salad is a small version of the house salad, and there are other salads which I have not yet tried.
Signature Pizzas

For a while the True Italian Pizza was dropped from the menu but now it is back. This is a very good choice, and includes a good selection of meats as well as vegetables. The ingredients include pepperoni, Italian sausage, prosciutto, sun dried tomatoes, basil, mozzarella, and peppercini.
Some of the other signature pizzas seem rather "out there" to me and include the Loaded Spud, Biscuits 'N' Gravy, and the Traditional Breakfast. These are ones that for some strange reason I probably will not get around to reviewing.
Build Your Own Pizza

Using the build your own menu they made a Margherita Pizza using ingredients that they picked out (so I wouldn't have to do it). It was very satisfying except for the fact that I did not taste much basil. The cheese was very good, though (I think better than at most other restaurants). I am not sure if they used regular tomatoes or sun dried, but you can specify the one you want.
This pizza I have liked best so far has been one with Cherry Tomato, Sun Dried Tomato, and Basil. The cheese here is better than at most places, and this was a combination where the flavor of the cheese was not overwhelmed by too many toppings.
This build your own pizza was ordered when the staff recommended pepperoni as a good choice for the meat portion. I added spinach, basil, and sun dried tomatoes. After trying it, though, I would say it is better to get a combination of meats such as on the True Italian.
Pasta
The Spaghetti and Meatballs were good, but I thought the sauce was somewhat bland.
Rustic Chicken is both a pizza and a pasta, but in this case I tried the pasta. To me it seemed as if it had very good ingredients (the chicken and noodles were very good) but the sauce was not very exciting to me and I thought it was too heavy on the garlic.
My next try at a pasta dish turned out to be one of the best items at the restaurant, the Chicken Fettuccine Alfredo. This was fresh and flavorful, and the chicken had the same excellent quality that I found in the rustic chicken dish. It had a lot of garlic (a recurring theme here) but I did not think it was as over the top as in some of the other dishes.
Soup
The Tomato Basil Soup was very thick, had a good flavor, and was really the way I like this type of soup. Revolve has a "Spin Two" menu choice where you can get a small version of a pizza or pasta with a small salad or soup (as shown in the photo).
In a Nutshell
Probably the best features of Revolve are the fact that the food is healthy and easy on the stomach (at some places this is an issue with me on the pizza) and that they have some good deals such as the "Spin Two."
The tomato basil soup is one of the best I have tried anywhere.
The staff is able to help with the build your own pizzas, such as when they made a margherita pizza for me.
The dining room is self service and you get your own drinks.
Yelp says they serve beer and wine but I think the atmosphere here is mostly for families, and they make it fairly easy to feed a family at budget prices.
---
RATING: 23
Cuisine: Pizza
Cost: $$
Hours: Open Daily
Accessible: Yes
Smoking: No smoking
Alcohol: Beer and Wine
Most Recent Visit: Jul. 15, 2020
Number of Visits: 5
Best Items: True Italian Pizza, Chicken Fettuccine Alfredo, Tomato Basil Soup, Revolve House Salad
Special Ratings

| | |
| --- | --- |
| | True Italian Pizza |
| | Margherita Pizza (Build Your Own) |
| | Pepperoni Pizza (Build Your Own) |
| | Chicken Fettuccine Alfredo |
| | Spaghetti and Meatballs |
| | Rustic Chicken |
| | Tomato Basil Soup |
| | Revolve House Salad |
| | Side Salad |