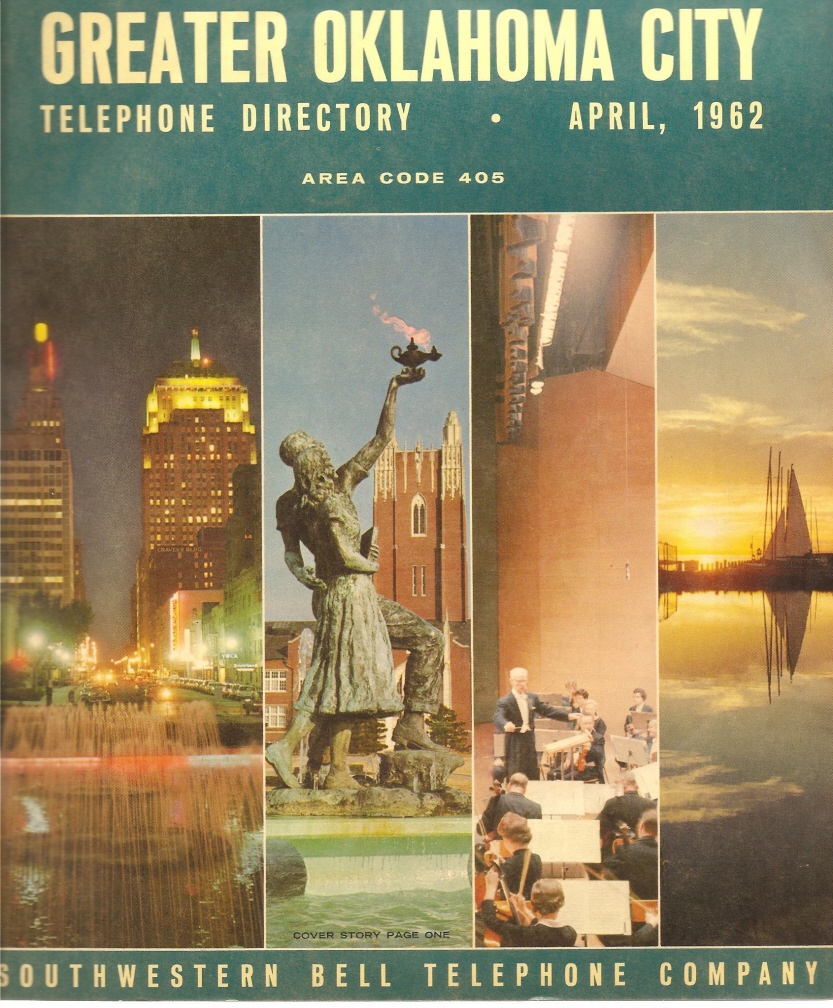 Some of us have fond memories of the restaurants that existed in 1962, and some in the younger generations imagine that they represent a slower paced era when we had no-nonsense "real" food. Whatever conception one has of the past, there is really no substitute for the original sources of information about restaurants such as the phone books (which listed just about any eating establishment which had a telephone).
My copies of the 1962 phone book are sometimes a little hard to make out, but this was done to preserve a now fragile document (and I think it provides a good list of the restaurants that existed at the time). I found several categories in the yellow pages that listed places to eat (such as cafeterias, hamburger stands, etc.). There might be some that I missed (one that I can now think of is the country clubs).
From reading this blog some may think that I do all kinds of weird things (such as saving my parents' old phone book from 1962). Do not think that it was an easy task to withstand the pressure to clean things up and get rid of my junk. I have a good excuse, though–I found out that people born when Mercury is in retrograde (such as yours truly) are characterized by being reflective and intuitive, and having an alternative way of thinking. Actually I think astrology gives everyone an excuse for acting the way they do, but I am just glad that now I cannot be thought of as weird (although some of my opinions about food may still be considered by some as being so).
Note: click on links to see images from the phone books
1962 Oklahoma City Restaurants and Eating Places

Cafeterias (Adair's to Dodson's)
Cafeterias (Dodson's to Zean's Bar-B-Q)
Caterers (Airline Bakery to Hik'ry Pit Bar-B-Q)
Caterers (Jolly Roger to Zean's Bar-B-Q)
Restaurants (A-1 Cafe to Dairy Snack)
Restaurants (Darling Lunch Cafe to Hik'ry Pit Bar-B-Q)
Restaurants (Hik'ry Pit Bar-B-Q to Linwood Grill)
Restaurants (Little Casino Cafe to Ricsha Drive Inn)
Restaurants (Rigler's Cafe to Sonic Drive Inn)
Restaurants (Sooner Grill to Zean's Bar-B-Q)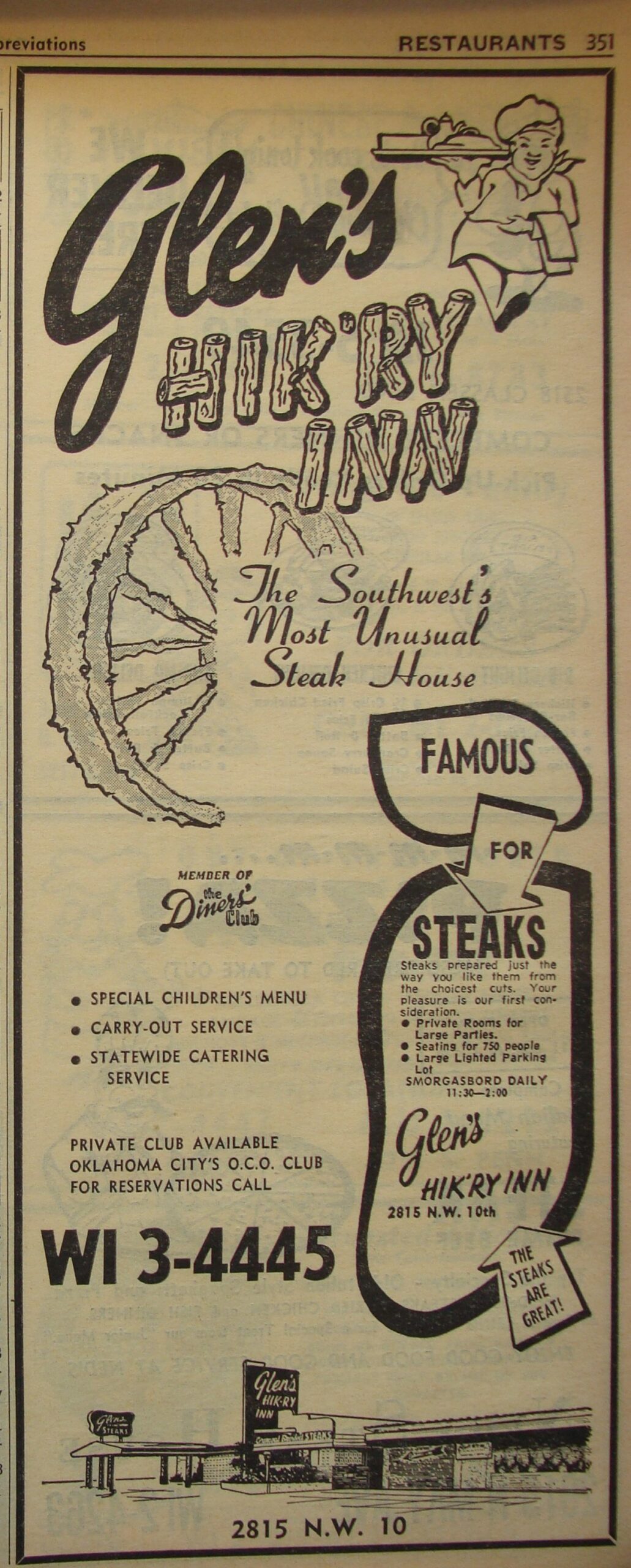 Some Comments
These are the restaurants I enjoyed as a youth, and I believe many of them would stand up as great restaurants even today, while others were good for their time. Some notable ones that I remember include the following:
El Charrito: my favorite place for a special treat. Mostly we ate at the one on Paseo, and I especially liked it because of the Spanish/Mediterranean/Mexican type of architecture that made up the Paseo District. I remember especially liking the "Plato de Jalisco" (not a dish that characterized the food served in Jalisco but which helped get Americans in the mood for Tex-Mex food).
Lady Classen Cafeteria: I liked it for the same reason my parents did–they had very good food, many times better than we could get at home. Of course the best part was that everyone could order exactly what they wanted and I think there were rarely any two of us that ordered the same thing at the same meal. Although my family was anti-smoking it did not seem to bother them that the whole restaurant seemed to be enveloped in a large smoke cloud (but every other restaurant in the city was just about the same way). It seemed, though, that the smokers particularly flocked to Lady Classen.
The Patio: I think they had the best hamburgers ever. These were the charcoal broiled burgers with hickory smoked sauce (the type now served at Johnnies, Interurban, and others).
Split-T: A very good hamburger restaurant, but in my mind it was not quite as good as The Patio. I think that Split T was mainly responsible for the popularity of charcoal broiled burgers with hickory smoked sauce (extremely good, but I liked The Patio better).
Charcoal Oven: Another very good hamburger restaurant, but you had to eat it in the car (at the time I thought this was a very good idea–at least you did not have to smell other people's smoke). The restaurant closed, but reopened at a different location with new owners (and now has a dining room). This restaurant also inspired some friends of theirs to open the Charcoaler Restaurant in El Paso.
Nicolosi's: It was not until shortly before the restaurant closed years later that I realized that better Italian food could even exist (and I still liked the food here).
J R's Chicken Ranch: they seemed to have the best chicken I could find anywhere. This was likely because of what my mom later said, "What made the food back then so good was because it had things we would not eat today" (high fat, calories, etc.). Perhaps, though, because the chickens came from a "Ranch" this meant they were free range?
Beverly's (had some branches called "Chicken in the Rough"): Although known for its fried chicken, we usually went for pancakes or other items we considered to be worthy of special occasions. This is one of the few restaurants on the list that is still in business (at the time there were six locations but the one I remember was on Northwest Expressway and has now moved about a mile to the west).
Herman's Sea Food: Fish was not usually in my diet, but it was so good here I made an exception. My favorite thing there was the cole slaw (this slaw is now served at The Garage, where I like to order it with fish tacos or fish and chips).
Sleepy Hollow: The ultimate special occasion restaurant (the site of many birthday dinners). I think the reason I remember it better than Glen's is because my parents thought it was a better restaurant, and went there more often.
Glen's Hick'ry Inn: A special occasion restaurants to which the kids were invited a few times. I think the big deal here was the experience of having a multi-course dinner (salad, dessert, etc.). My parents appreciated that they had a "private club" (the only way alcohol could be served at the time).
O'Mealey's Cafeteria: I have a vague memory of it. This is where my mom would like to go for lunch, perhaps with her friends (while Lady Classen is where the family went for dinner).
Tony's Via Roma: I remember it as being one of the better pizza and Italian places.
Cattlemen's Cafe: It is still open and still one of my favorites, but I doubt if I had ever eaten there until sometime after 1962.
House of Chan, Ouy Lin, and others: These are places where we had something "exotic" such as Chinese food. Once I had Chinese food in Chicago and other cities, though, I felt that what I had eaten before in OKC was not real Chinese food.
Ned's Steak House: The pizza seemed to be swimming in grease (probably in olive oil) and I thought it was great. Not to worry about it, though, because the ad says this is "Old Italian Style" (and maybe it was).
Kip's Big Boy: One of the better coffee shops that were also reliable stops when we were on road trips
McDonald's: I had never eaten there but it was interesting to see their electric sign that would keep track of how many hamburgers had been sold chain-wide (at the time they were measuring them in the thousands, and I think at a later time it reached a million).
Lakeside Country Club (NW 63rd & Portland): I did not see it listed in any of these sections of the phone book but I remember it as being a place where the family could get together and have food geared to both the adults and the children.
One more item from the phone book that I thought was interesting was a map of the phone exchanges (which at the time used letters instead of numbers);