Billy Crews Fine Dining

1200 Country Club Rd.
Santa Teresa, NM
(575) 589-2071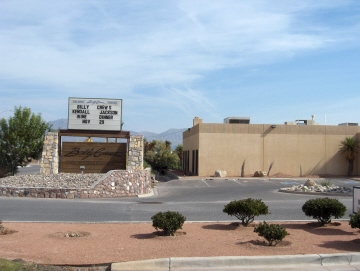 ---
Billy Crews is what I call an El Paso institution, as defined by any of the following characteristics: (1) it has been here as long as I remember, (2) it has been a favorite with my family members as well as myself, and (3) the food is of such a caliber that it is one of our first choices when deciding where to dine. Billy Crews fits all of these categories, and I would put an emphasis on the quality of food as the main reason for its longevity.
A fourth factor for being an El Paso institution, of course is that it would be a restaurant in El Paso. One unique feature of El Paso is that adjacent areas of southern New Mexico are considered to be part of the city in terms of being able to visit the restaurants there (and the same used to be true for Ciudad Juarez, Mexico until border security and problems south of the border made it so that very few people wanted to go for something as mundane as getting a meal). In the case of Billy Crews, its short distance from the El Paso city limit makes it easier for many people in central and west El Paso to visit than many restaurants on the eastern side of their own city.
Billy Crews is a destination restaurant, as is true with most steak places. I think there is a misperception, though, that it is only a restaurant for special occasions. Dinner has a range of prices for the steaks along with other items (chicken, seafood, etc.) but none of them are as expensive as I think of for a typical fine dining restaurant. The lunch menu has some even better bargains, and you can get anything from a sandwich to a New York steak platter. The dinner menu is also available at lunch in case this is what you want.
Billy Crews also has a liquor store, and when I went for dinner in the early 2000's there were over 15,000 bottles of wine available with dinner (I imagine they are also available for lunch but they are just not as conspicuous in the bar area). In any case, the New Mexico fine dining restaurants all seem to put as much emphasis on the drinks as they do the food.
The Restaurant

The front entrance leads into the main dining room, the bar, and the liquor store. However, this entrance is closed during the day, and customers can use the rear entrances to either the bar or the liquor store.
The patio is used for wine tasting events (I think Billy Crews was doing this first before it became popular in Las Cruces).
Dinner
Dinners at Billy Crews are special occasions in their own right. Steaks are put out in a display case to be viewed and selected as desired, much the same as at Cattleman's at the opposite end of the El Paso metro. Unlike Cattleman's, though, Billy Crews limits the choices to a few cuts. Seafood, chicken, pork ribs, and pasta primavera are available, providing an adequate variety of fine dining choices.
The Monterrey Chicken is one of the two available chicken entrées, consisting of a grilled chicken breast topped with a delicious white Mexican cheese. Although I would have preferred that it include green chile strips, it was just about perfect except for this one point. The chicken was of a quality that I have seldom if ever found in the El Paso area, or in just about any other city for that matter. Served on a bed of wild rice, the flavors blended perfectly, with the rice providing extra flavor and nutrition rather than being a "filler" as is frequently the case at other restaurants.
The House Salad was rather ordinary, but I was satisfied with what they served. The Italian dressing was supposedly made from scratch, but I thought this was the weakest part of the salad. The greens were good, with a variety of light and dark green lettuce being stuffed inside a half lettuce head that served as the "bowl."
Although just about any type of wine is available, probably at just about any price, some fairly good Chilean wine was being served by the glass as the "house wine" when I had dinner here.
I found the service at Billy Crews to be of a quality that normally can only be found at a country club or the traditional steak houses in Chihuahua. Each waiter served several tables, but each table was made to feel that they had the waiter at their disposal to provide anything they needed. It is amazing to me that the prices are as reasonable as they are with the great food, service, and wine that are provided.
Lunch

Although my last dinner visit was before I started taking photos, this one of the Chicken Fried Steak from the lunch menu should give some idea of the type of food to expect. To be specific, it had a crispy crust, a flavorful gravy, and a sizeable portion of good quality meat. It was strange to me that Billy Crews, being in New Mexico, served a chicken fried steak that was more akin to the ones served in Austin and east Texas than any I have found in El Paso (which should know a few things about Texas cooking).
I have kind of a mixed review of the side dishes. I think the Beans were spot on with a ham hock flavor and a noticeable kick added for good measure. The Cole Slaw was fine, but my favorite is definitely at the Great American in El Paso or Vinton, Texas.
Summing It Up
The two items I have tried here–the chicken fried steak and the Monterrey chicken–are among the best I have found in the El Paso area (in the case of the chicken fried steak I think it is the best). To me this gives a good recommendation for anything else I might want to try on the menu.
The kind of wine and service the restaurant provides at dinner will probably make you want to spend the evening or a considerable portion of it enjoying a leisurely meal. This is a fine dining restaurant–not  a regular restaurant that happens to have better food than normal. It is just that when you come here you will not encounter a situation like Mr. Bill, the claymation character from Saturday Night Live did when it was tax time and he met H&R Sluggo who took "an arm and a leg."
---
RATING: 25
Cuisine: Steaks
Cost: $$$
Hours: Open Daily for Lunch and Dinner
Smoking: No Smoking
Alcohol: Bar
Special Features: Nightly Specials, Special Wine Dinners
Most Recent Visit: Apr 17, 2022
Number of Visits: 2
Best Items: Monterrey Chicken, Chicken Fried Steak
Special Ratings

| | |
| --- | --- |
| | Monterrey Chicken |
| | Chicken Fried Steak |
| | Home Style Pinto Beans |
| | Cole Slaw |
| | Salad |