Lucy's Coffee

1305 N. Mesa St.
El Paso, TX
(915) 544-5829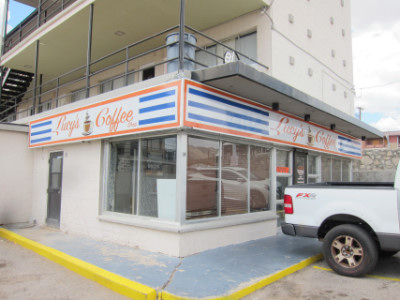 ---
Lucy's Coffee (a.k.a. Lucy's Coffee Shop) is best known on the Internet as a breakfast place, and it is one of several restaurants located near downtown El Paso that seem to be strategically located for people to catch on their way into work. However, the reviews I have seen indicate that most of the customers either make it a special point to come here from their part of town or else they are on a trip and know this is one of the best places to eat before they hit the road.
This is the smallest building in the Lucy's "dynasty" (there are four Lucy's restaurants in El Paso). It is counter service only with about sixteen stools available. Most people come for breakfast, and about three-quarters of the menu is devoted to breakfast items. If you want to come for lunch you will have to make it before their 2 p.m. closing time.
Reviewers say it gets very busy at times, and it is worth the wait if there are not any stools available when you arrive. Food is cooked in front of you on a grill, and it did not look as if the grill had the capacity to prepare more than a couple of orders at a time. From my experience, though, the food is prepared very quickly and it would not take much time to turn out a backlog of orders.
The breakfast menu looked good, but reading some of the on-line reviews makes it even more convincing that I would want to try them. These are mostly traditional Mexican dishes (not fusion or alta cocina), but it sounds as if it is more flavorful than most of the ones served in other restaurants.
The lunch menu is very limited. They do not have many of the items for which the original Lucy's (at 4119 N. Mesa Street) is known. Two of my favorites from Lucy's (caldillo and milanesa) are not served here. However, the Texas Bucket List television program came to the original Lucy's to try the machaca and tacos Antonia, both of which are also on the menu at Lucy's Coffee.
Reviewers also mention the fact that this is a diner. This is evident from the fact that the only seating is on stools and you can watch them cook the food on the grill. However, this was not the type of diner that felt like a greasy spoon, but rather one that seems to have home cooked meals (although no one in my family can make home cooked food like this). The staff really makes you feel at home, and in my case really brightened up my day.
Combination Plate

I opted for a lunch with something I frequently order at restaurants–the Combination Plate. There is only one combination plate here, consisting of an enchilada, chile relleno, taco, rice, and beans. The price definitely falls within the inexpensive category when compared to most other combination plates I have ordered.
The Red Enchilada could have turned out to be a little disappointing because it was cooked on the grill, and I generally think baked enchiladas are best. However, this one had an excellent flavor, and the red chile met my standard for both flavor and piquancy. I thought I detected a slight taste of cumin, but in a small enough amount that it did not dominate the flavor.
The Chile Relleno was quite spicy, had a good flavor, and had a crisp texture. It had a very low amount of oil (just enough so that I would not call it "dry"). The cheese was excellent (which is the one component which I think usually plays the largest part in determining whether a chile relleno is top notch). One more thing I liked was the fact that they did not put sauce on top, but only cheese.
The taco was a little bit different because you have a choice of which type of meat you want (al carbon, ground beef, or chicken). For me, they asked whether I wanted avocado and sour cream on it, and I thought it sounded a little different but it was something I needed to try. This turned out to be the Taco Antonia which the Texas Bucket List featured, and which automatically gave me the choice of the al carbon meat. This was one of the best tacos I have ever eaten, and even though it had a hard shell it was not crispy in a way that would crumble when you eat it. One of the best features was that the "sour cream" was actually Mexican crema with a flavor that I think is much better than I find with American sour cream.
An Overview
My experience several (perhaps many) years ago at the original Lucy's was that much of it was mediocre but I really liked a few things. Every restaurant in town has changed over this amount of time, and most for the better, so I am not making any assumptions about the food at Lucy's Coffee based on this. I do know, though, that everything I had was excellent.
The lunch menu is limited and it closes at 2 p.m. Another thing I think might be limited is the drink choices. The menu says they have canned Coke, Mexican Coke, iced tea, coffee, milk, and orange juice (which are about the same choices found at many restaurants). It seems that as much as I liked the lunch, though, the big draw is the breakfast.
They do not serve chips and salsa here (maybe this is one reason for the low prices). After I finished I realized that they did not give me any salsa with my meal and also that I did not need any (normally I have to use it to spice up the taco but this taco was fine the way it was). I suspect, though, that if you want salsa they will give it to you.
---
RATING: 24
Cuisine: Mexican El Paso
Cost: $
Hours: Open 8 am to 2 pm Mon-Fri
Accessible: Not Sure
Smoking: No smoking
Alcohol: No
Most Recent Visit: Aug. 16, 2022
Number of Visits: 1
Best Items: Taco Antonia, Chile Relleno, Red Enchilada
Mexican Food Details