Kungfu Noodle

6733 Bandera Rd.
Leon Valley, TX
(210)
451-5586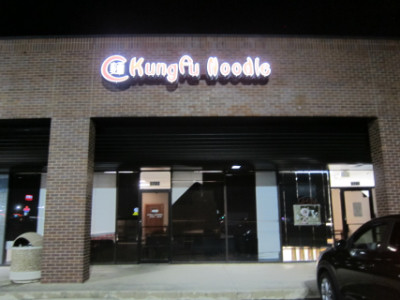 ---
In collecting information for this write-up I was surprised to learn that there are actually several restaurants in Texas called Kungfu Noodle–all of them have a similar concept of serving noodles and dumplings but they all seem to be independently owned and have different menus. There is even one in east El Paso which must have opened recently.
The reason I made a point of going to the one in San Antonio is that the reviews indicated this was one of the best Chinese restaurants in the city. I know the Alamo city does not have a large concentration of Chinese restaurants, but it is a large enough city to have very good restaurants of all cuisines, and it is no small thing to be considered one of the best in any type of food.
This Kungfu Noodle has a simpler menu than the ones in other cities–it consists of dumplings, noodles (both dry and soups), buns, and a lunch menu with Americanized Chinese dishes. Its popularity, however, seems to be based mostly on the authentic food (dumplings, noodles, and buns).
One thing I should mention is that the staff went far out of their way to help me, including helping me decide what to order. I did not have enough appetite for both dumplings and noodles so I chose dumplings, but the waiter narrowed it down by suggested that the beef noodles were quite flavorful and that I would be happy with them (which I was).
I could tell the restaurant was popular because even near closing time when I came, there were still quite a few customers in the dining room. The restaurant is casual and gives you the help you need, but they have a drink bar where it looks as if you can help yourself to refills (I did not try it myself, though, to see if this was true).
Dumplings

To me the Beef Dumplings served here were the next best thing to xiao long bao soup dumplings. The dumplings were filled with a flavorful juice (which I think came from the meat) along with an excellent seasoning, and I would not have thought that dumplings that looked so plain could have this much flavor. Containers of vinegar and chile oil on the table give customers additional choices for flavor combinations.
Buns

After placing an order for 20 dumplings (and yes, I was able to eat all of them) I knew that an order of noodles would be far too much (although it was tempting because the noodles are hand pulled). A bun, though, looked like the right size to sample some other flavors.
The Pork and Cabbage Bun I ordered had a very good flavor and was spicy on its own without any muss or fuss (you do not need to dip it in anything or add any chile–just bite into it).
Drinks
Normally they have both cold and hot tea, but they were out when I went just before closing time. Sodas were available, but what I finally chose was a new discovery for me to have with Chinese food, namely orange juice. I must not be the only one who thinks this makes a great combination or else they would not have had it available as one of the choices.
An Overview
Both the dumplings and the noodle dishes seem like very good choices for main dishes, but I was only able to try the dumplings. The buns are something I would say goes with the main dish. The cabbage in some of the buns does give you some vegetables in case you are concerned about this type of thing.
My order of dumplings came with 20 dumplings, but they were small and this was not too much to eat. I only got this instead of one of the spicy noodle soups because of some stomach problems I had been having, but I had no regrets about the choice. The "almost soup" juice inside the dumplings really made this an excellent meal.
I would say that this is totally legitimate Chinese food, but just with a limited menu (I do not know why they have Americanized Chinese food on the lunch menu but reviewers seem to like it as well).
---
RATING: 25
Cuisine: Chinese
Cost: $$
Hours: Open 11 am to 9 pm (closed Mon)
Accessible: Yes
Smoking: No smoking
Alcohol: No
Most Recent Visit: May 29, 2022
Number of Visits: 1
Best Items: Beef Dumplings, Pork and Cabbage Bun
Asian Food Details