Taquería Altos de Jalisco
1410 E. Main St.
Fredericksburg, TX
(830)
990-8554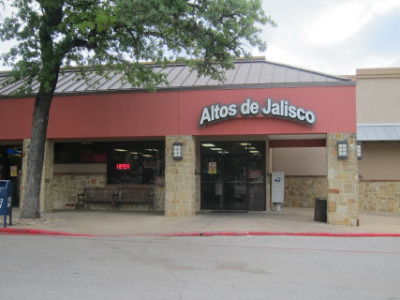 ---
Fredericksburg is well known for its German food, but its dining scene is quite varied and is largely built on the town's local customer base. Even the tourists flock to several restaurants that are not German, and I think it is safe to say that the city has all the variety of restaurants found in towns of a similar size, plus the ones that can be supported by tourists.
Mexican restaurants in Fredericksburg number in the double digits, and these seem to be among the most popular places for locals to eat. Altos de Jalisco is a particularly popular place for breakfast, and has the other meals covered as well. I think a number of Mexican restaurants in town are small or are mainly for takeout, while Altos de Jalisco has a spacious dining area with a very large menu so that families and friends can meet with all of them being able to order their favorite items.
My traveling companions and I ended up here at the invitation of Horst Klauser, a local resident who is originally from Germany, but who spent many years in El Paso and who loves Mexican food as much as just about anyone who has lived in the borderland. Some may remember Mr. Klauser as being the founder of the Polka Dots, a German style band who played for events at Fort Bliss, the German Air Force stationed in El Paso, local German restaurants such as Gunther's Edelweiss, and other events where they needed some real dance music.
I get the impression that Altos de Jalisco may be the best Mexican restaurant in Fredericksburg. TripAdvisor currently has it listed as number 8, but I would put more faith in the judgment of a local, particularly one who is familiar with Mexican food in El Paso as well as across the border. Altos de Jalisco has a number of taco plates and meat dishes that look as if they are authentic, but I have not tried them (nor have I tried the ones at other restaurants to know how they compare). Tex-Mex is the traditional style in this part of Texas, and this is why I say you cannot just walk into any Mexican restaurant and order something off the menu, expecting it to be authentic. Altos de Jalisco has Tex-Mex dishes as well, but you can get authentic food as well (and if in doubt, ask the staff).
Breakfast

For breakfast there is a special dish called The Alemán (the German) that is not on the menu, so you have to ask for it. This was actually developed with the help of Horst Klauser himself, who missed the type of food served in El Paso and asked the restaurant to make it for him (or for anyone else who orders it). These are huevos rancheros with ranchero sauce on top, along with beans, rice, and bacon on the side (the regular plate would have potatoes on the side and I do not know what kind of sauce would be used). This had a good spiciness but the emphasis was on flavor rather than heat. There are many restaurants in El Paso that serve a similar type of ranchero sauce, although some of them put chile con queso on top instead. I think the ranchero sauce is a very "Mexican" way to prepare it.

With the two Mexican breakfasts I had on this trip to central Texas, neither came with chips and salsa. The Alemán made up for it by putting the eggs on top of tortillas, and you can get salsa on the side. In any case, for any El Paso transplants to this part of the state who miss food from their hometown, you can find a taste of it here.
Other Comments
Some of the tacos and meat dishes here do seem to be the authentic Mexican style, but I am only going by the photos I have seen on the Internet. I also know that the cooks here can make authentic food if you want it, but I assume it would be Jalisco style (the Alemán special plate is specifically made to be northern Mexico style).
While I was there a saw a menu for the lunch specials, all of which seemed to be topped with cheese and none of which resembled anything I would find in El Paso. My point is not that all food in Texas should taste like it does in El Paso, but that the Tex-Mex tradition is so strong in this part of the state that this is what will likely be served in most restaurants. At Altos de Jalisco I believe there are Jalisco style food options, while the dish I ordered at least showed me that they are able to serve non-Americanized food with the true flavors of Mexico. I like northern Mexico style food because it is usually spicier and more flavorful than some others, but anything authentic is usually very good.
The downside of this restaurant is that you would not know about dishes like The Alemán unless you asked, but I am saying that if you want something authentic there is a good chance they will either have it on the menu or would know how to make it.
The menu is so huge that I think the intent is that they are trying to give every customer the dish that they want.
---
RATING: N/R
Cuisine: Mexican Jalisco
Cost: $$
Hours: Open Daily 6 am to 10 pm
Accessible: Yes
Smoking: No smoking
Alcohol: Serves Alcohol
Most Recent Visit: May 30, 2022
Number of Visits: 1
Best Item: The Alemán
Mexican Food Details