Halo Halo Filipino Food

12135 Montwood Dr.
El Paso, TX
(915) 
304-6603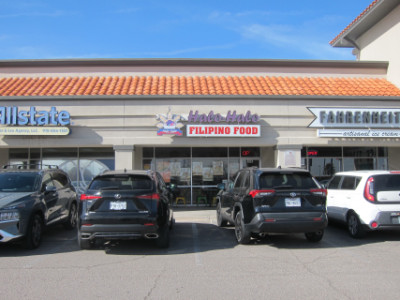 ---
In many cities Filipino food is the great unknown within the world of Asian cuisine, and this is because this type of restaurant is largely lacking among the plethora of Chinese, Thai, Vietnamese, etc. (the latter two actually have a smaller population than The Philippines). Many Filipino restaurants which do exist remain tucked away in strip malls or other places where passing motorists might notice the sign but likely do not know what Filipino food is all about.
Along with Mexican food, Asian cuisine is the other category about which I might be called a fanatic. I tend to seek out Filipino food because it is one of the hardest to find, and therefore is one of the biggest treats when I do encounter it. People cannot be faulted if they are uninitiated to certain cuisines, but I feel that if I know of something really good it is my responsibility to tell others about it. I still do not know the different dishes in Filipino cuisine, or even if there are different styles from the country's various far flung islands. So far, though, everything Filipino that I have tried has been good. Halo Halo has a bonus that their food is put in display cases where you can see it before you order. They also allow customers to ask questions, and unlike some El Paso restaurants they do not get impatient if you ask more than one.
Halo Halo seems to specialize in street food. It is very informal, and you can either order a dinner or just pick out whatever items you would like to order. It is definitely doable to have a meal here in the single $ price category but the food shown in my photos, although more expensive, was enough for two meals.
The Restaurant

I think that some menu items are served every day, but every day they have special items which are rotating. One which they told me was a daily special was the Chicken Afritada, a very good stewed chicken with tomato sauce and other ingredients such as garlic and fish sauce in keeping with the Philippines' heritage of being part of the Asian world. This was a really, really, (put in as many "really's" as you want) good dish, but with it not being on the regular menu I do not want to bump up my rating of Halo Halo just yet. If I am able to return, though, and find other specials that are equally good, this will definitely be taken into consideration.
Rotating Menu

Chicken Afritada, a daily special, was the best item I tried. However, it looked like there were at least a dozen choices available to order, and every day they have specials that will be repeated on other weeks, but I am not sure that they would be on set days. It seemed, though, that they made an effort to make the daily special something that is truly special.
Regular Menu

Pancit noodles are served on some of the plates much like rice is with Chinese food–a side dish that provides some filler to the meats and other main items. Being a side dish, though, does not mean that it is not flavorful. I think it is customary for it to be cooked in chicken broth and to contain a variety of other ingredients such as garlic and soy sauce (although I do not know the recipe used here). What I do know is that it had an Asian flavor.
The Sinigang was excellent as well, containing a sharp citrus flavor that I think comes from tamarind. To me this would be somewhat of a consolation prize if they did not have the chicken afritada when I went, although I really liked it almost as well.
An Assessment
In describing the food I am almost convincing myself that this is one of the best Asian restaurants around, but it is just that some other Filipino food I have had in Oklahoma City was even better. I think the problem here is the cafeteria style setup where I have to make quick decisions about what to order, at the same time as not knowing very much about the food. They did answer my questions, though, which I think is why I got a meal fitting my tastes despite the limitations.
The only way to know this or any cuisine is just to try it. Probably the best way is to read any reviews you can find, and ask the staff questions about the food.
I am also pretty confident about going out on a limb and saying that you probably cannot miss with the daily specials. In fact, I do not think I missed with any of the items I ordered.
---
RATING: 23
Cuisine: Filipino
Cost: $$
Hours: Open Thu-Sat Only
Accessible: Yes
Smoking: No smoking
Alcohol: No
Most Recent Visit: Mar. 25, 2022
Number of Visits: 1
Best Items: Chicken Afritada, Sinigang
Asian Food Details