Thai Delight

2184 Avenida de Mesilla
Mesilla, NM
(575)
525-1900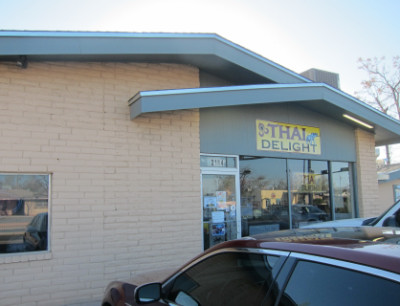 ---
The Land of Enchantment, with roughly 2 million people and 121,000 square miles, is a diverse area where people tout their native New Mexican cuisine as well as boast about their local version of it being the best (or in some cases they may prefer the food prepared in other areas of the state). Thailand is a country that also loves its chiles, but has a population 35 times as large and a land area one and a half times the size of New Mexico. The landscape ranges from rain forests to forested mountains with extensive farmland in between. The climate is conducive to a wide variety of food that is reflected by the various styles of Thai food found around the United States (and I think there are many more that are not as common here). While saying that all New Mexican food is not the same, this is much more true of Thai food.
One thing I am learning about Thai food is not to judge the food at one restaurant by what is served at others–the owners are likely from different parts of Thailand, have their own local recipes, and specialize in different dishes. I probably cannot have a good idea about a restaurant until I have tried at least three to five dishes that they serve. The curry and dishes such as pad thai usually tip me off as to whether the food is Americanized (with an unnatural sweetness) and whether the restaurant refuses to make the food spicy enough, but even in these cases there is usually something somewhere on the menu that is not only authentic but also very good.
At Thai Delight I do not think the food is Americanized, but the flavor is a little different than I have found at other restaurants. I cannot really say whether this is a good or bad thing until I try more dishes and/or try some of the same things a second time. I think it can be compared to Texas barbecue versus the North Carolina version or Oklahoma hamburgers compared to the ones in California.
The freshness was there, as well as a home made flavor. Missing was the overemphasized sweetness that is a giveaway that they are making the food Americanized. In short, I think people will like the food here.
Appetizers

Every dinner comes with an appetizer of either miso soup or a salad. I ordered two meals for take-home, and got one of each appetizer to go with them. I do not really have a favorite out of the two but I was so impressed with the salad dressing that I will say the Salad was the best choice. My selection was the raspberry dressing which was really the best ever that I can remember.
The Miso Soup was also excellent, and even better than in most Japanese restaurants. Its weak point was just that it did not have much substance (such as seaweed that is frequently added in Japanese restaurants).
Curry

Reviews of the restaurant indicated that the Green Curry was a good choice, so this was my choice for one of my take-home meals. I usually find that either the green curry or the yellow is my favorite at a Thai restaurant (possibly depending on where in Thailand the food is from). Here the green curry was good but it was not my favorite–I think several in Oklahoma City Thai restaurants have a better flavor. They were not shy about adding the spice, though, which chileheads will like.
Stir Fried Dishs

At many Thai restaurants the stir fired dishes are my favorite, such as the Stir Fried Ginger I ordered here. To me this came very close to hitting the mark of what I was wanting–I think it could have used a bit more ginger, though.
The stir fried ginger also had a bit of a different flavor than I have had elsewhere, but I thought it was possibly a regional difference, and overall I thought this dish was quite good. Many times when I want to change the flavor a bit I add fish sauce to it, but since I did not eat it in the restaurant this was not available to me. I did think to ask for chile oil in my to go box (and I think it added to the flavor as well as the heat level).
An Assessment
The two dishes I have tried so far did not reach the level that I normally consider to be my favorite dishes and that I would order over and over again. They were, however, very good. Mostly importantly they had none of the "bad stuff" such as too much sugar or other alterations that are not found in true Thai food.
Note, though, that they do have a green chile cheeseburger on the menu, so maybe this is close enough to Thai food that they have a fusion thing going on here.
---
RATING: 23
Cuisine: Thai
Cost: $$
Hours: Open Daily except Mon. Evening
Accessible: Yes
Smoking: No smoking
Alcohol: No
Most Recent Visit: Apr. 5, 2022
Number of Visits: 1
Best Item: Stir Fried Ginger
Asian Food Details