Casita Linda

5315 Hondo Pass Dr.
El Paso, TX
(915) 757-9025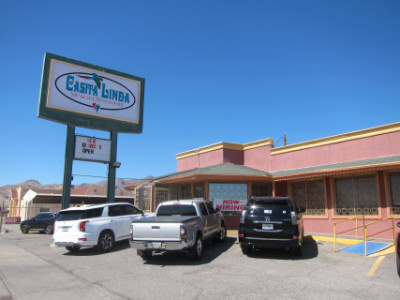 ---
Casita Linda is one of the many neighborhood Mexican restaurants in El Paso that tourists rarely find, but has the type of food I think out of town visitors envision when they come to the borderland for its nationally known cuisine. In fact my visit in 2022 was prompted by seeing it on a list of the top five Mexican restaurants visitors to the city should experience (I know there are a ton of these lists but this one seemed especially credible).
There is a good reason Casita Linda is not well known– it is located on a relatively lightly traveled street in the part of the city that is as far away from Interstate 10 as it is possible to get and still be in the city. However, readers from Alamogordo or who regularly travel on U.S. 54 have told me they make regular stops at Casita Linda, partly because although the Mexican food in Alamogordo is good, it is not quite the same as can be found in El Paso.
As a former resident of northeast El Paso I know I have been to Casita Linda, but I do not know how many times. For the purposes of this web site I am "starting over" on my count of the number of times I have visited. The point is, though, that the length of time Casita Linda has been in business for me to remember it as long ago as I do makes it one of El Paso's established institutions in Mexican food. In fact, it is almost the stereotype of the unique El Paso style Mexican food found along the border. A variety of items are good, but probably the best thing that can be ordered is a combination plate with contrasting flavors, colors, textures, and levels of spiciness.
Chips and Salsa

The Salsa here is spicy with an excellent flavor, and I think is about as good as anywhere in El Paso. The chips are as good as the ones in most restaurants..
Combination Plates

Casita Linda has a large choice of combination plates where you can get just about anything you want. In case none of the combinations work for you, though, you can get the Select Combination where you choose the three main items you want (I think the choices are anything that is on the other combinations but probably other choices are available as well). The above photo shows what I thought was a very good choice.
The spiciest item served in my Select Combination was the Chile Relleno, and it was also one of the best. The breading was light and fluffy (sort of the Mexican version of angel food cake) and the chile had a good heat level. The cheese was in the state of being semi-solid and semi-liquid that typifies a good chile relleno, and the tomatillo sauce was flavorful. This was a classic El Paso style relleno.
Like most El Paso style restaurants, the Red Enchilada had the deep red color that distinguished it from Tex-Mex enchiladas. The flavor made it obvious that the owners know how to find good chiles to use in the red sauce. Every restaurant in El Paso used to serve enchiladas like these, and many are now changing but Casita Linda still does it the traditional way.
I also knew what to expect from the Green Enchilada –something less spicy than the red enchilada with pureed green chile (the classic El Paso style). This is the one that I think New Mexico chile aficionados would have the most trouble with since the chile is quite mild and seems to have more additives than the red chile. Still, though, I cannot say this is like Tex-Mex food since I have never seen Tex-Mex restaurants serve green enchiladas with this type of color or flavor (the flavor is quite good despite being mild).
Senior Citizen Menu

I do not know why but all the combination plates have three items, and if you only want two you have to get the Senior Citizen Special (which is inexpensive enough that it actually puts the meal in my one dollar sign price category). Fortunately it is self evident that I qualify for the discounted meal, and I was able to test my theory that two items on a combination plate really is enough when I get the Casita Linda version of the items.
Even though I knew the Red Enchilada was excellent here, I now think it may be the best in town other than at Forti's. The red chile was spicy without being too much so, and it had a bold chile flavor without tasting like it had cumin or other additives that would detract from my enjoyment of it. Another important factor was that they do not skimp on the amount of sauce you get.
I think the Chile Relleno was even more impressive compared to the ones served in other restaurants. The chile was spicy with a good flavor and quality. The cheese had a good flavor and consistency where it was soft but not runny. The batter was not greasy and was light without being skimpy. The Spanish sauce on top was appropriate for a chile that provides all the spiciness you need (at least it was enough for me).
One bonus of the senior plates is that they include a Sopaipilla. These would be worth it even if you had to pay for them (which you would if your order most of the other plates including the combination plates, specialties, and Mexican plates).
In A Nutshell
I am very impressed with the flavor and quality of the items on the combination plates, and both the red enchilada and chile relleno are on my very short list of the best ones in El Paso. The menu has quite a few other items, though, and I am sure that many of them are equally worthwhile.
This is not the only Mexican restaurant in town that has a very good combination plate, but here you get solid El Paso style food and this is definitely a good choice. If the chile relleno is very important to you, though, Casita Linda would be part of a much more exclusive list of places that I would consider to be a must try.
---
---
RATING: 24
Cuisine: Mexican El Paso
Cost: $$
Hours: Open Daily
Accessible: Yes
Smoking: No smoking
Alcohol: No
Most Recent Visit: Mar. 2, 2022
Number of Visits: 3
Best Items: Red Enchiladas, Chile Relleno
Mexican Food Details