Mi Piaci Restaurant

5411 N. Mesa St.
El Paso, TX
(915) 875-0034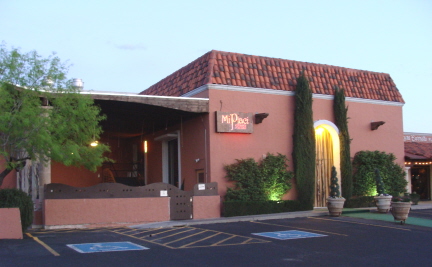 ---
Mi Piaci got its start in a humble building at 5222 Doniphan Dr., but from the beginning it was obvious that the food was a step up from most of the city's other Italian restaurants. Now housed in Pepper Tree Square at 5411 N. Mesa, diners find a luxurious dining space where the décor is fully equal to the fine dining experience that can be enjoyed from the food.
After Mi Piaci opened on Doniphan in 2005 I used to experiment with different take-out orders, getting a feel for the types of items that were served. One thing that became clear was that Mi Piaci did not fall into the stereotype of the typical Italian restaurant where customers had a choice of two or three sauces on top of different shaped pasta. In fact, even though owner and chef Cosimo is from Italy, and this is very good Italian food, the dishes seem to be as much his creations of fine dining cuisine as traditional Italian food.
Chef Cosimo Battaglia is from Calabria in the most southern part of Italy, but gives us a take on this region that is perhaps different than people might expect if they are thinking about the normal "southern Italian" food that is served in many restaurants. Here the focus is on freshness, flavor, and originality so that you get dishes that might be found in Italy but are not common here along with others that might not be found anywhere exactly the same way they are served at Mi Piaci. The food is also quite varied, including everything from pasta dishes to different types of meat, seafood, salads, soups, and even sandwiches on the lunch menu.
I think of southern Italian food as "red sauce" Italian, but any red sauce served here is light and fresh– not the "old style" Italian-Amerian sauce laden with oregano and other strong spices. When I first went to Mi Piaci on Doniphan I found that each dish was individually and lovingly created by the chef (this was almost mandated by the fact that the restaurant only had about 20 tables). The menu was small, but quality was maintained to a high standard.
Now the restaurant is larger and the menu has been expanded, but the same high quality control is maintained. Chef Cosimo has a tradition of coming to the tables to greet customers, and I doubt that he ever gets very many negative comments about the food. I know that I did not have any.
Appetizers
I cannot speak about lunch, but I know that dinner tends to be a somewhat leisurely process of enjoying a multi-course meal and waiting while each dinner is painstakingly prepared. Dinner starts with a complimentary appetizer of fresh bread that can be dipped in traditional olive oil and vinegar. It is hard to judge how much of this to eat, though, since I always want to leave room for the other courses.
The Potato Soup I tried as the soup of the day was a very fresh and flavorful appetizer that tasted home made. I especially liked the consistency–a puréed soup that was also thick enough to be substantial.
The Insalata di Pere con Gorgonzola is probably one of the best salads in El Paso. In any case, it is one of the few for which I will pay almost the same amount as a normal entrée and think that I am getting a good deal. This is a salad of mixed greens (very good quality ones), gorgonzola cheese, pears, pine nuts, and walnuts. This salad looks simple, but I suspect great skill is needed to make it turn out as well as it does. The first time I tried it with a tart and delicious walnut cream vinaigrette dressing, and I thought this was a big part of the salad's appeal. On a later visit, though, the waiter suggested a raspberry vinaigrette, and I thought this was even better.
Other types of salads are also served, including a dinner salad that is less expensive. All items at Mi Piaci are served a la carte, and the soups and salads all cost extra. My experience, though, is that individual items are not a lot more expensive than at other restaurants. The cost at Mi Piaci comes through ordering a number of different items, good quality wine, or entrées that consist of very high quality meat (which many of them are). I find myself paying almost as much for similar items at other restaurants and wishing I had gone to Mi Piaci instead.
Steak

The meat dishes are more substantial in quantity, and many would consider them to be the specialty of the restaurant (although I think some other items are equally impressive). All of the entrées are not only filling but high quality (or at least I am making that assumption from the ones I have tried).
Filetto di Manzo al Pepe Verde was the first entrée listed on the menu, and it is mid range in terms of price. This was a beef filet tenderloin served with very interesting green peppercorns (pepe verde), covered with a brandy demi-glaze. Coming from Oklahoma I usually enjoy a filet as a plain steak, but the way this one was prepared made the filet at Mi Piaci one of the best I have eaten. The meat was tender and obviously well prepared, and I thought the sautéed spinach on top was a good contrasting flavor. One of the things I enjoyed most was the Bacon Confit Potatoes that came with it (and that almost made me never want a plain baked potato again with a steak). I think this meal was real Italian food, the kind that people in Italy would want to eat when they were splurging on better than average food
Pasta

Through my own experience and comments from others, I think the pasta dishes (those typically associated with southern Italian style restaurants) are very good, but do not always demonstrate what is special about Mi Piaci's food. An example is the Lasagna that I thought was very well prepared, but it had so many spices that it was similar to ones served at many Italian restaurants. I have tried lasagna dishes at some of the better Italian restaurants in Oklahoma, and to me several of them were better than Mi Piaci's version in terms of the flavor. This is just my personal taste, although there is more to it than just the flavor including the top notch ingredients that are used in all of Mi Piaci's dishes.
The Linguini all'Ortolana is another pasta dish served (at a relatively inexpensive price), but not one that I find at a lot of Italian restaurants. Perhaps this is one of chef Cosimo's specialty dishes, but in any case I found it to be a masterpiece of pasta, olive oil, vegetables, and everything that could have been quite ordinary in a lesser restaurant. This is a vegetarian dish, but I thought it was quite substantial for a dinner. The white wine and light tomato sauce are some of the keys to its being so good.
Desserts

There is a good dessert selection, one of which is the Tiramisu. This was quite impressive because of all the toppings and fresh strawberries, and I think this is a substantially more complex dish than is normally served. One unique feature, though, is that the cake is home made angel food instead of the lady fingers normally used in this dessert. Of course the requisite espresso is included.
Wine Selection
Of course Mi Piaci has an excellent wine selection. I had the advantage of trying the food without wine and confirming that the meals here can stand on their own as "fine dining." Depending on the individual's taste, though, the wine served could be a definite enhancement.
Additional Comments
This restaurant definitely has some of the best food I have had in El Paso, but it is also expensive. It is not at the level of "big city" expensive but it costs a lot for El Paso. I need to qualify this, though, because you can save money by coming at lunch, staying away from steaks and fresh seafood, and being careful about ordering appetizers. On the other hand, some of the best items I have had were exactly these things (such as the filetto di manzo and the insalata di pere).
Chef Cosimo has the credentials of being able to make authentic Italian food, although I think his goal is simply to make them taste as good as possible (sometimes by adding his own twist to things). For most of the items I have tried I would say he has done a good job (although I am not totally convinced about the lasagna).
---
Restaurant Web Site: Mi Piaci
---
RATING: 26
Cuisine: Italian
Cost: $$$
Hours: Closed Sun.
Accessible: Yes
Smoking: No smoking
Alcohol: Full Bar
Most Recent Visit: Mar. 10, 2022
Number of Visits: 6
Best Items: Filetto di Manzo al Pepe Verde, Linguini all'Ortolana, Insalata di Pere
Special Ratings

| | |
| --- | --- |
| | Filetto di Manzo al Pepe Verde |
| | Linguini all'Ortolana |
| | Lasagna |
| | Insalata di Pere |
| | Potato Soup |
| | Tiramisu |