Tomasita's

500 S. Guadalupe St.
Santa Fe, NM
(505) 983-5721
---
Tomasita's web site states that it has been a family run operation for over 40 years, which reveals at least two important facts. One is that it is family run, and this may be an explanation for the fact that (to my taste) it has such good food. I had recently visited El Bruno's in Cuba, New Mexico (another popular family run restaurant), and I thought this and Tomasita's had equally good food largely stemming from their nature of being local small scale restaurants. The only thing that really matters is that they have good recipes that are prepared well, but family owned restaurants tend to be particularly adept at this.
The fact that it has been operating for over 40 years is another important piece of information for me. This would mean that they opened sometime in the late 1970's, and this would be the correct timeline for the memory I have of another restaurant which I believe was in the same building (an old railroad depot). It was actually the depot for the narrow gauge railroad which went north through northern New Mexico. The restaurant previous to Tomasita's, though, had a name something along the order of Santa Fe Station, making me think that this was the old station for the Santa Fe Railroad (the real Santa Fe Railroad station was north of this location a couple of blocks, and is now the terminus for the commuter train from Albuquerque). The restaurant I remember was upscale and served steaks. I have tried to look it up on the Internet and I cannot find any information about the former restaurant. The real point to me, though, is that I think the conversion of the building from an upscale restaurant to a traditional New Mexican one is a sign of progress in a city where the real estate prices seem to dictate that it have more and more upscale restaurants, but fewer of the affordable ones.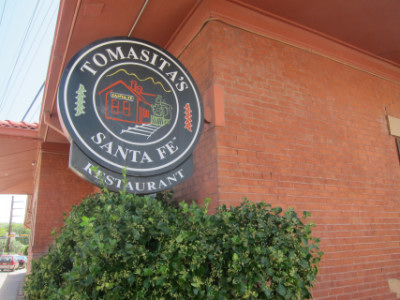 My first visit to Tomasita's was on a busy day, but it was the off-peak period of the afternoon. There was a wait for a table, and I imagine that the waiting time gets much worse during peak period. Otherwise things went smoothly, and I was pleased with the service as well as the food. The price was in a range that I once thought was high, but compared to similar restaurants (even in cities not as expensive as Santa Fe), the prices here seemed very reasonable.
The menu has a large number of choices (so many that I think some of them would not be considered traditional New Mexican cuisine). They also have daily specials but I did not check the prices on these, and they are not listed on their on-line menu. For me, though, my usual choice at restaurants serving northern New Mexican food for the first visit (as well as most subsequent visits) is blue corn enchiladas. Sometimes I try other things, with the stuffed sopapilla being at the top of the list. I do believe that if you have other dishes that are your favorite this will influence your list of favorite restaurants, but I do want to explain that my rating of this restaurant is based primarily on the enchiladas.
Chips and Salsa

The Chips and Salsa were very good, but I did not think they were notably better than at other restaurants. I was happy that they had different colored chips (some blue and some red). The problem with these was that the waiter did not bring them out until I asked for them. This usually means that you have to pay extra for the chips, but in this case it was just that the waiter forgot (not a problem for me as long as they do not spring me with any surprises on the bill).
Enchiladas

The Blue Corn Red Enchiladas had all the required elements that I think make them good: flavorful and traditional tasting red chile, a spice level that goes just to the perfect point without being overly spicy, high quality cheese, and the blue corn tortillas that are almost totally missing in southern New Mexico restaurants but which are almost universally available in the northern part of the state (usually for an extra charge, though, as they are here).
There are quite a few choices involved when ordering enchiladas, such as red or green (the green is almost always the spicier of the two), blue corn or regular (I think the blue gives it a better flavor), stacked or rolled (usually the northern NM restaurants make stacked their default), choice of meat (I go with the plain cheese version at least until I find out which others are especially good), and onions or no onions (normally I omit the onions but in northern NM I find that they put in less onion than in other areas and it has less of a strong onion taste, so here I go with the onions).
One thing I really liked about the dinner is that they brought out the Sopaipillas with the meal without me even asking for them so that I could eat them with the red chile which was spicy enough that I really appreciated a sopaipilla to help tone down the heat.
Another thing that toned down the heat was the serving of Pinto Beans that, along with the cheese that topped it, had an excellent flavor and was another reason I love northern New Mexican cuisine.
The green chile is said to be good here as well, but I did not try it on this particular visit.
The Dining Room

The dining room is in a converted railroad station where much of the original architecture is on display, and the high ceiling and large windows perhaps make it appear more spacious than it actually is.
There is also an outdoor patio, and the web site says there is a private room that can accommodate parties of up to 20 people.
Other Notes
This was definitely among my best experiences with northern New Mexican cuisine in recent years, and I cannot think of past experiences where the enchiladas were really any better than here.
Some reviews say The Shed has better New Mexican food than Tomasita's, but it was a very popular day with visitors and the parking situation made it so that going to The Shed was not feasible (The Shed is located just off of the Plaza so the traffic was for many destinations other than The Shed itself).
I have to say, though, that the food at Tomasita's was as good I expected that The Shed would be, so I was not the least bit disappointed with coming here instead. I do not know if the food (especially the enchiladas) are actually better at The Shed, but I would probably not recommend going there on a Saturday during the summer tourist season as I tried to do.
Tomasita's has another location in Albuquerque which is said to be good as well. Personally I am glad I chose this location because of the higher elevation, crisper air, scenic landscape, and historic setting of Santa Fe. If you cannot make it to Santa Fe, though, I am sure the Albuquerque restaurant would be fine (not to say that Albuquerque does not have its share of crisp air, scenic landscape, etc.).
---
---
RATING: 26
Cuisine: Mexican New Mexican
Cost: $$
Hours: Closed Sun.
Accessible: Yes
Smoking: No smoking
Alcohol: N/A
Most Recent Visit: Aug. 10, 2019
Number of Visits: 1
Best Items: Blue Corn Red Enchiladas, Pinto Beans, Salsa, Sopaipilla
Mexican Food Details
| | |
| --- | --- |
| Chile Index: | |
Special Ratings

| | |
| --- | --- |
| | Red Enchiladas (Blue Corn) |
| | Pinto Beans |
| | Chips |
| | Salsa |
| | Sopaipilla |
---