Once again I have borrowed an idea from my friend and fellow blogger Gil Garduño who published an account of his best meals in Albuquerque in the article "Gil's 'Best of the Best' for 2020.".His articles are so full of knowledge about food and information in general that I think it is good reading for just about anyone, while my own aspiration is to at least help someone looking for something good to eat in Oklahoma City.
I probably should make a couple of disclaimers. One is that I had a lot more chow worthy food than is listed here, but these are the ones that stuck in my memory the most and in some cases changed my perception of some types of restaurants and cuisines. The second disclaimer is that this list only reflects my own taste, and I do not claim to be a trained food critic or someone who can seek out what would be judged as the best food in a professional competition.
Dine-In Meals
Dine-in meals were somewhat limited in 2020 due to COVID and other factors. I need to make a personal statement that I think it is a very good thing that Oklahoma has allowed restaurants to stay open all year except for a short period from late March to late May (and even during that period they could do takeout and delivery). I think that other states are doing their citizens a great disservice by being too restrictive on their restaurant rules. I have seen restaurants in Oklahoma City do everything from blocking off every other table to putting up clear plastic partitions between tables to requiring masks upon entering and exiting from tables (many of these measures were mandated by the state and/or city). As a result I have heard statistics stating that restaurants were not a significant source of COVID spread (at least the ones that follow these safety measures). I am just glad that the majority of restaurants seem to have weathered the storm and are still open. So with that editorial I will now go on to my list.
One of my most unexpected treats was the Hatch Green Chile Burger at the Bricktown Brewery at 5516 W. Memorial Rd. in Oklahoma City. The quality and flavor of this burger matched some of the best ones I have had in El Paso, and in fact I found out that Bricktown Brewery recently opened a restaurant in the Sun City and this may be where the recipe originated. In fact, I think the one in OKC may even be better than most green chile burgers in El Paso because the quality of meat in Oklahoma seems to be about the best anywhere.
It may be unfair to put Chuanyu Fusion at 7011 W. Hefner Road on this list because the dining room has been closed since March and they are now doing takeout only. However, the Chongqing Diced Chicken with Chili Pepper and Pepper Corn is something that is worth ordering as takeout. I especially liked it, though, on the bamboo plate they use in the restaurant. It was also especially good with the hot tea they serve in house (it is not available for takeout). This is definitely something worth waiting for at whatever time the restaurant reopens for dine-in service.
Many people have been talking about Clark Crew BBQ at 3510 Northwest Expwy. in OKC, and I definitely think it is worth a visit. The Brisket, Chopped Pork, and Turkey were all excellent. I also gave five stars to all the sides, although I think some of the local chains (such as Swadley's and Billy Sims) might have better sides overall. The standout side here was the cornbread, which comes automatically with every order. I have read that the ribs are actually the best meat here, and if so then I have something to look forward to the next time that may be even better than what is pictured.
The Interurban on Memorial Road in OKC has now closed, but they still have locations in Edmond and Yukon, among others. I was able to enjoy my long time favorite, the Hamburger with Barbecue Sauce which was dropped from the menu but now is available on request any time. I did a taste test and found that I prefer Johnnie's sauce (along with the fact that Johnnie's has a different cooking method which is on a charcoal broiler). The edge that I think Interurban has, though, is on the meat patty, along with the fact that the difference between their sauce and the one at Johnnie's is not enough that I think it makes a whole lot of difference.
Johnnie's Charcoal Broiler probably has my favorite hamburgers in town (sometimes I find others that seem equally worthy). Traditionally I have liked the Johnnie's on Britton Road the best, but this year my best Johnnie's experience was at the newly remodeled Northwest Expressway location (6629 N.W. Expwy.). The food here was like I remember from the "old" Johnnie's (not that the old Johnnie's has ever gone away, but I think it is just a question of how tight they are on the management).
The Fiesta Plate at the Mama Roja came very close to making me not miss the Mexican food in El Paso so much. Located at 9219 Lake Hefner Parkway in Oklahoma City, I think the restaurant has upped its game since my first visit shortly after 2010. The good thing about the Fiesta Plate is that you can choose any three items on the menu to include in it, and everything I chose was good.
Fortunately Nunu's Mediterranean Cafe at 3131 W. Memorial Road in OKC still has some daily specials including the Cousa that I was able to order (this was served on a Saturday). I think I heard that these "casserole" dishes are cooked by Nunu herself and brought to the restaurant (sometimes the special is eggplant casserole which I also really like).
Probably the best Thai curry dish I have had this year was the Kao Soi with Chicken at Sushi Thai Delight at 925 W. Interstate 35 Frontage Road #116 in Edmond (between the 2nd and 15th Street interchanges). I have had the same dish at the "other" Thai Delight at 3409 S. Broadway in Edmond (both restaurants have the same owner) but based on my experience I would say the one on the Interstate is slightly better (and thus is the one on my "Best Food" list). Actually, even though I say this was "probably" the best Thai curry I tried, it really was not much of a contest.
To me the Fresh Ginger at Thai Delight in Edmond always seems to be the best dish that I try here, and this is saying something because everything else is good as well. It is also saying something because the ginger stir-fry dishes I have had at other restaurants run the range of being much less flavorful than here to being equal or almost equal (but I have not found any that are better). Thai Delight is at 3409 S. Broadway in Edmond.
Takeout and Delivery
The meals that were takeout or delivery, and which still made my list of the best meals of the year, are listed here.
Although the Combo Meal from Cajun King in Warr Acres was my favorite meal from the Cajun category, I do not think it is actually Cajun but is more New Orleans style Creole food. In any case it was an excellent meal, and the blackened pork chop probably is true Cajun style (this is something I did not have a chance to try when I was in Louisiana). Cajun King is located at 5816 N.W. 63rd St.
Casa Perico at 12219 N. Pennsylvania Ave. (and their other location at 4521 N.W. 63rd St.) has an excellent Rajas Enchilada which is very much authentic Mexican style. This meal was not quite as good as the ones I have had in the restaurant, but I still enjoyed it very much and would recommend ordering it at times when you cannot or do not wish to go to the restaurant. I have been on a crusade to ask Mexican restaurants for more authentic food so that they will have enough public demand to make it. When something like the rajas enchiladas comes along, I would urge people (for the sake of their taste buds) to order it.
Although the Veggie Tagine at Cous Cous Cafe was excellent, I enjoyed it more because I also got the chicken couscous (on a bed of couscous) and had two memorable meals with half and half of each of these dishes. Cous Cous Cafe is at 6165 N. May Ave., and is open every day. This also means that you can get delivery any day of the year (provided that there are people available to deliver it).
Like many takeout dinners, the Mixed Vegetable Clay Pot at Dot Wo differed from the ones I have had at the restaurant visually, but tasted the same. In this case it was an excellent meal with a very good sauce (although you do not really see the sauce in this photo). The chefs here are from the former Dot Wo in Edmond, where I always admired that they had authentic Cantonese and Hong Kong style food in addition to the American style menu items. For the new restaurant they have also brought in some authentic dishes that were formerly served at the Dot Wo Restaurant that used to be at N.W. 63rd and May, and even items that were served at the original Dot Wo near N.W. 30th and Portland. The new restaurant is at 3000 W. Memorial Rd., and they do have dine-in service.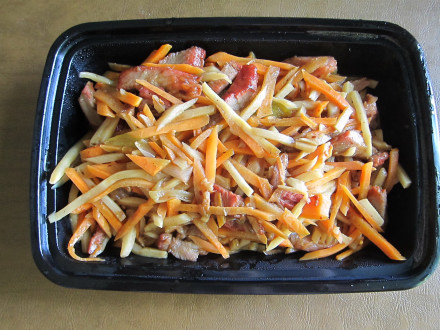 Fortune Chinese Restaurant at 12315 N. Rockwell Ave. has several good menu items, and can also prepare several special dishes that are not on the menu. My favorite special dish is Yu Xiang Rou Si which is barbecue pork with garlic sauce (literally "fish flavor"). They have been very good about preparing special dishes for me over the years–they have the expertise to do this but the question is always whether they have the ingredients and the time to do it. In the case of the yu xiang rou si, it has a very good flavor and they are always able to prepare it when I ask. Other dishes that are not on the menu but have been available on request include tomato and egg (or tomato beef, which I think is on the menu) and mapo tofu.
Naan Cuisine of India at 12215 N. Pennsylvania Ave. has given me several very good dishes, so I am including a photo of the one I liked the best visually. This is the Kerala Veg Stew which I think I would call a green curry dish. The veg stew has now been dropped from the menu but they have a chicken version (and I think they very likely can still make the vegetable version on request). The chef at Naan specializes in dishes from Kerala state in south India, although they also have very good items from other parts of India including the food that used to be served at Ajanta, the restaurant that was at this location before the new chef came and changed it to Naan.
The Chicken Picatta at Primo's in Yukon is a no-brainer choice for one of the best meals I have had. The sauce here goes above and beyond what I find on most Italian dishes. Some of the individual parts, such as the angel hair pasta and the chicken by itself would make an excellent meal. This dish was very well done and is something I would really recommend. Primo's is at 1215 Garth Brooks Blvd. just off of Interstate 40.
Rasoi Chaat at 3810 N.W. 39th St. serves an Indian style Thali meal, of which the above photo only shows one of the two containers that are served (it does include the two main items–two types of curry). The whole meal together was one of my favorite meals this year because it reminded me of the Indian restaurants on the west coast that gave you the thali style small servings (but you get several different items in one meal). One of the keys to the thali is that you get an Indian style spicy pickle for extra flavor as well as to make it spicier if it isn't spicy enough already.
The only difference between the takeout order of Ghormeh Sabzi at Travel By Taste in Warr Acres and the one served in the restaurant is the visual presentation. They both taste excellent, and the food keeps warm long enough to get it home within a reasonable distance. This dish has been a favorite of mine for a number of years, and continues to be. The food at Travel By Taste is so good I usually like to order more than one item (and save whatever I do not eat as leftovers). A good choice for this is the Turkish Salsa, but really I think you could get almost anything here and it would also be a good choice. Travel By Taste is located at 4818 N. MacArthur Blvd.
I had several really good pizza delivery experiences, but I believe the best was the Margherita Pizza from Upper Crust. One of the keys here was the fresh mozzarella, and I liked every other aspect of it as well. This came from their restaurant in Edmond, but those who are closer to the Oklahoma City location can get delivery from there as well (I ordered it from a delivery service, and I do not know if the restaurant itself makes deliveries). The address of the restaurant is 1205 N.W. 178th St. (I believe they are open for dine-in customers).