Mariscos Culiacán

4164 N. Mesa St.
El Paso, TX
(915)
500-1994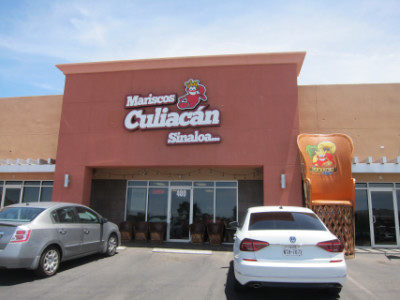 ---
Mariscos Culiacán is part of the growing trend in El Paso which is dedicated to serving food representative of the various Mexican states rather than everything being a different version of the "border style" food (as much as I think border cuisine has its own place as a recognized style of Mexican food).
Mariscos Culiacán has four locations in the El Paso area, which according to their web site "strive to offer a rich variety of dishes created only with the highest freshness and quality of fish and seafood from the Pacific coast." Just about all the seafood served in El Paso Mexican restaurants comes from the Pacific coast in Mexico, so the difference between various places is not as much the fish itself but its freshness and the way it is prepared. After my first visit to Mariscos Culiacán I cannot say it is the "go to" place in El Paso, but it did impress me quite a bit with what I was served. For me, being in the middle of the desert and having fish I can say I really like, is impressive.
Within the fish and seafood (mariscos) world, there are quite a few choices on the menu. They do have steak available, but otherwise it is just seafood. Some choices include tacos, whole fish, tostadas, aguachiles, shrimp and other cocktails, and grilled or breaded fillets. They also have a "torre" (tower) of shrimp or other items that looks like a huge stack of food meant to feed an entire table (at least for their appetizers). If nothing else, this restaurant has "everything you would want to know about Mexican seafood" (doing a take-off of Ed McMahon's line that he used with Johnny Carson).
Chips and Salsa

This was a very good and very interesting set of Chips and Salsa–the "chips" were whole toasted tortillas while some of the salsas had bits of seafood mixed in. The piquancy of the salsa was more than acceptable as well.
Fillets
I was able to try two fish fillets from the menu including the Filete Enchipotlado (it is always good to learn a new word in Spanish but I am not sure "enchipotlado" is one that I will be using much). This actually means covered with chipotle sauce (just as "enchilada" means covered with chile). Of the two fillets I tried this was the spicier dish. The flavor was also quite good although visually it is less interesting than the other one. If you are hoping to discern the flavor of the fish I am not sure a sauce this spicy is a good way to do it, but the fish seemed to be very good and certainly did not have a "fishy" flavor.
The other dish I tried was the Filete Julion Alvarez, a fish fillet named for a Mexican music star which is covered with a poblano sauce (less spicy and arguably more flavorful than the chipotle). This fish was breaded as I believe the chipotle one was, but I really did not pay much attention to it. In the end I really thought both dishes were equally good–good on the flavor and sufficiently spicy.
I liked the cucumber appetizer but more and more I ignore any french fries on my plate because I am trying to have a healthier diet. Fortunately the plate was filling enough without them (just for clarification my plate was the one with chipotle and I sampled the one with poblano sauce).
Drinks
I found the Agua de Limón to be very good. This was an "agua fresca" drink that is freshly made every day.
Additional Notes
This is a casual restaurant with prices that are not very expensive. It has an impressive variety of dishes, and what I tried was very good.
As far as I can tell they serve a generic type of white fish here. There are not any more expensive types of fish you can order–there is just one type of fish that can be prepared in many different ways.
The key to this restaurant is that the fish seems to be extremely fresh. It is common for restaurants in El Paso to have fish on the menu along with many other items (chicken, beef, etc.) but I usually do not order fish in these restaurants because they are not the items that have the most flavor. I am not saying they are not fresh, but I believe Mariscos Culiacán and other seafood restaurants have the edge because of the volume of fish they serve.
---
RATING: 23
Cuisine: Mexican Sinaloa
Cost: $$
Hours: Open Daily
Smoking: No smoking
Alcohol: N/A
Most Recent Visit: Jun. 5, 2022
Number of Visits: 1
Best Items: Filete Enchipotlado, Filete Julion Alvarez, Salsa
Mexican Food Details