Tumble 22
7211 Burnet Rd.
Austin, TX
(512) 520-1998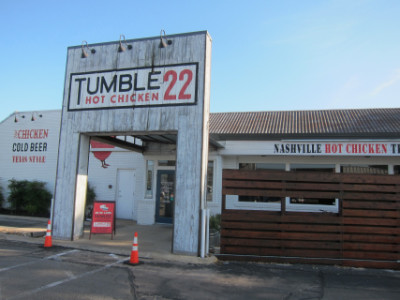 ---
Tumble 22 "Texas Born & Breaded Hot Chicken" is a local Austin chain of Nashville style hot chicken restaurants (and as of 2022 also has a Houston location). I would describe it as fast food that is on a high level in terms of flavor and quality of the food. The chicken is not greasy, but is fried and coated with "Chef Marmulstein's own secret blend of spices, getting its heat from the cayenne and spice dip."
The chicken here reminded me of home cooked fried chicken, except for the spice that makes this one popular. The chicken comes in various forms including chicken tenders, chicken bites, and bone-in chicken. It is coated with the spice according to your heat preference. All orders come with containers of "Comeback Sauce" and ranch dressing in addition to the spice they put on it, so you actually have a variety of flavors at your disposal.
There is also a menu of Southern side dishes such as collard greens and potato salad, and various pies for dessert. Adult drinks are also available including Adult Lemonade and Big Larry.
My party came very early on a Saturday evening and grabbed the last table available–after that a line formed outside. I would say be glad that this is a chain because that is probably the only way they could provide enough tables to meet customer demand. The Burnet Road location also has patio seating but for Austin in the summer time, I do not think this would be of interest to me.
I do think it is worth trying the food here. It is a step above most chains and most fast food restaurants–it is good enough that many will likely want to put it into their regular rotation.
The Chicken
In case anyone is keeping track, I am not eating five meals per day, but sometimes I visit this many places when I am sharing the meal, as was the case here. In this instance it was an order of Chicken Bites with the "Mo Hot" sauce (at a three out of six spice level). The chicken seems to be the same whether you get the bites, tenders, sandwich, etc., except that some of the choices include dark meat (this one was white meat).
I can make a case that the bites are actually the best choice because they are small, and therefore you get more breading and more of the "secret spice" (such as the Mo Hot sauce). You can also dip it in the two other sauces they bring to the table. The point here is that I think all of their sauces are good, and really the two main features here are the very good chicken they have and the flavors that go with it.
I thought the "Mo Hot" was spicy enough but for someone used to spicy food you certainly could go higher. I am just saying that I do not think I missed out on flavor by having a medium spice on it.
For all orders you can see what kind of spice was on it. The Mo Hot leaves a yellow color on the paper underneath the chicken. For spicier orders you see a bright orange color. I am a Longhorn fan but I do not think I personally would order one of the extreme versions just to give me the orange glow in the basket when I am done.
Other Comments
After tasting the Nashville style hot chicken I think this is a good concept to import into other areas. For many people throughout the country I see this as a style of food that may soon be coming to a location near you.
Even though this restaurant is part of a local chain, the quality of a small restaurant seems to be there.
One good feature is that you get a good selection of side dishes, desserts, and drinks. It is Southern style food but even though the chicken is fried, I do not think it has as much grease as you would get elsewhere. Some of the side dishes look pretty good as well.
---
RATING: 23