Red Peppers

5022 Dyer St.
El Paso, TX
(915) 881-4600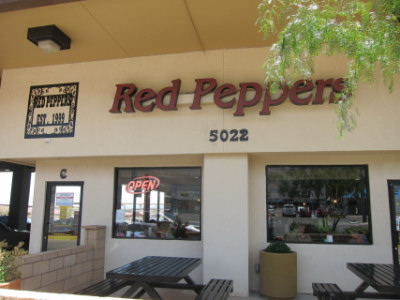 ---
I originally came to know Red Peppers from its location at 910 E. Redd Rd. There was a second location on Doniphan Drive, and as far as I can tell the menu and flavors of these restaurants have been successfully transported to the newest location in northeast El Paso near Fort Bliss.
I also think the red chile (or red pepper) is somewhat distinctive compared to others in the city. This is a dark red chile that almost tastes as if they took a red chile, ground it up, added some oil, and cooked it without adding anything else (salt, flavorings,etc). I know that this is an exaggeration but it may not be too far from the truth (and I do believe there is a danger of adulterating it so much that the chile ceases to be the dominant flavor). In any case, the red chile is good but just not my favorite.
A distinct feature of the old restaurant was that they had one of the best salsa bars in the city, but this started dwindling down to the point that there was no salsa bar at all, but they just gave you a few samples out of what was previously available. What they still have is very good, though.
Usually red enchiladas are my favorite item at El Paso Mexican restaurants, but that is not the case here. Instead, the restaurant falls into a second category that is common in the city where just about everything except the enchiladas are good. In most of these restaurants (as here) the enchiladas are fine, and are better than in many parts of the country, but it is really the other items that are the main reason I would come back.
Chips and Salsa
I usually start out by talking about the chips and salsa. In looking through my notes and photos I do not see anything about chips, and I believe they do not serve these (although I could not swear to it). They do give you salsa to put on your food, though (and the salsa here is very good).
Combination Plate

Most of the time a combination plate in El Paso means you get a red enchilada, chile relleno, taco, rice, and beans. Many times a restaurant will add an item or two, or will allow some substitutions. Usually, though, if a restaurant has a combination plate it is a clue that the food is El Paso style (as opposed to Ciudad Juarez where you often just order one item which will possibly also come with rice and beans). When restaurants do have combination plates this is usually what I order–both to try different items and to enjoy the variety it provides.
In the case of Red Peppers there are three choices for a combination plate, none of which are the enchilada/chile relleno/taco combination (all of them, though, include a gordita). A fourth choice is to "build your own" with four items instead of three.
The one I tried on my first visit (pictured above) had a red enchilada, chile relleno, and gordita.
Individual Items

My library of photos from the old restaurant includes one of the Red Enchilada, ordered separately. I think this has all the essential elements for a good enchilada experience, but does not come together to be one of the best. To me it is almost too much of a pure chile with the exception that I think the oil is very evident. It is good, but in my opinion is not the best.
At the old restaurant I thought the Green Enchilada was better (but I have not tried the one here, and I do not have any photos of it). My notes say, though, that it can be substituted for the green one on the combination plates.
I think the Chile Relleno is one of Red Peppers' standout items. Served New Mexico style (with no sauce on top), it is also very close to New Mexico quality. It is very spicy but not blazing hot, there are no noticeable seeds, the batter has very little grease, and the cheese is one of the best.
The Gordita (from the combination plate) is "picadillo" style (ground beef with potato). This is standard for gorditas, but the difference here is that I did not think the masa had as much flavor as those at places such as JJ's or the Little Diner (on the west side of El Paso).
The Beef Taco has the same picadillo style meat as the gordita  For some this may be a good thing, but it is not my favorite type of taco.
The Picadillo Burrito is similar to the beef tacos except that the potato is not chopped as finely and more spices seem to be added to the picadillo meat (or at least different spices). I thought this was enjoyable, although the restaurant has a number of other choices for burritos including mole, chile verde or rojo, and chile con queso.
An Overview
There are several items that I have not tried, but which look as if I should. Therefore I consider this review somewhat incomplete, with the chile relleno being the best thing I have tried so far.
Probably one of Red Peppers' biggest draws is its cost, with this being a place with a lot of bang for the buck.
A second big draw is that they have a large covered parking area (a great amenity that would have been appreciated by the talk show host Larry King who experienced El Paso firsthand and said "there are cooler places in the summer").
The old restaurant closed at 7 p.m. but after 6:45 told customers they were only able to order takeout. I assume it is the same here.
Red Peppers has a breakfast menu that I think is as impressive as the regular one. I do not know if it is restricted to certain hours, though.
---
RATING: 22
Cuisine: Mexican El Paso
Cost: $$ (very close to $)
Hours: Open Daily for Breakfast & Lunch (open until 7 pm Mon-Fri)
Accessible: Yes
Smoking: No smoking
Alcohol: No
Credit Cards: They take credit cards but did not give me a receipt
Most Recent Visit: Jun. 9, 2021
Number of Visits: 1
Best Items: Chile Relleno, Red Enchiladas, Green Enchilada, Salsa
Mexican Food Details