Li's Cafe

632 Sunland Park Dr.
El Paso, TX
(915) 875-0509
---
Li's Cafe opened in 2010 as the "fast food" version of Moon Day, the now closed restaurant which served authentic northern style Chinese food. Lili, the owner of these restaurants, eventually closed Moon Day and sold Li's Cafe (and for a while opened Coli Wok & Grille at Mesa and Remcon).
I mention this because Lili worked with the current owners of Li's Cafe (who are not Chinese) to give them many of her cooking techniques and recipes. The food at Li's Cafe is not the same as it was at Moon Day, but I think the owners are using enough of Lili's recipes that the food here seems to be much better than I expected from a non-Chinese owned restaurant. This may be a backhanded compliment, but I truly enjoy the food at Li's Cafe (at the same time I know its limitations when it comes to getting food that is authentic).
The menu here is targeted at people who like the Americanized version of Chinese food (sweet and sour, broccoli beef, etc.). For at least some of the dishes, though, I think the flavor is closer to the food at Moon Day than to the typical Americanized Chinese restaurants throughout the city. I am not going to compare every dish here to the ones at Moon Day, but for the ones that are especially good I am sure that Lili was a big influence in this.
I found out that Li's Cafe can prepare dishes that are not listed on the menu (I asked for Szechwan pork and they were willing to prepare it even though it is not on the menu). They do have Szechwan beef on the menu but obviously there is some flexibility with what you can order.
Soup
The Hot and Sour Soup is the most obvious example I know of something that tastes like it did at Moon Day. Whether I am remembering this correctly or not, I can definitely say this soup has a very good flavor. I am impressed with the number of mushrooms it has and other "substance" (it is not just a big bowl containing mostly broth).
The Egg Drop Soup also has a very good flavor, and this is usually my preference if the meal I order is spicy so that this will provide an offset to it.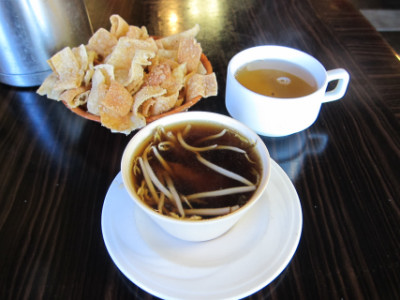 The Won Ton Soup also has a very good flavor, but it seemed that the only "substance" to it was floating at the top (so this soup is mostly broth). I think it had one won ton but this is normal for this type of soup.
Dinner Menu
The dinner menu expands quite a bit from the items that are served at lunch, they come in larger portions, and the price is higher. Dinner includes items such as kung pao scallops (this is is not available as a lunch special but you can get kung pao shrimp). I think just about everything that is of interest to me is on the lunch menu, but dinner does have some interesting things I might like to try sometime.
The owners told me that the sauce on the Hunan Pork was "not sweet," while the Szechwan sauce is sweet. It did turn out to be a good sauce. My main problem was with the vegetables, since I do not consider broccoli to be a Chinese vegetable or to contribute to the flavor of a Chinese dish in the way it should. (I had a take home order of Hunan chicken and had the same experience with it). There are some Chinese vegetables here such as mushrooms, bamboo shoots, carrots, and baby corn, but these were in relatively small quantities.
The pork was good in this dish, and the chicken was good on my take home dish (these meats are not breaded). Hunan pork is only available on the dinner menu, but Hunan chicken and beef are available for lunch at a very good price.
The dinner portions are an awkward size for me in that they are usually more than satisfies my appetite but there is not enough to split and make two meals out of ii.
As far as I know, dinner comes with the same choice of soups you get at lunch (hot and sour, egg drop, or won ton). It has been some time since I went at dinner time and I am not sure about the soup, but my memory is that I got soup with the meal.
Special Dishes
The Szechwan Pork was something I got as a special order, but they only serve it in a dinner portion (the only lunch item with Szechwan sauce is the beef). The meat on this dish was tough (more so than on the Hunan pork I ordered). The Chinese vegetables on this dish, though, were far better than the broccoli and other American vegetables that came with the Hunan style dishes (although the Hunan dishes do have a few Chinese style vegetables).
The sauce on this dish was supposed to be sweeter than the Hunan sauce, but I did not think it was sweet to the point that it had an Americanized taste. Instead, I really liked it, and overall the Szechwan dishes are my preference over Hunan style when the vegetables are factored in. The meat was tough, but I think this was a fluke rather than that they purposely serve a different meat on this dish.
I do not know what other "special" dishes they can prepare. I have tried to ask for some of the some of the dishes that were served at Moon Day, and Li's either does not have them or they have been morphed into Li's version of them (which are good but they are not the same as Moon Day's food).
Lunch Specials

Some reviewers on other web sites complain about the breaded chicken here where you get very little flavor of the chicken. With the Fragrant Chicken, though, the meat is not breaded (although there is a thick sauce on it similar to sweet and sour). The sauce is thick but it does not have the same sweetness as sweet and sour, and I thought it had a very good balance of flavors. The vegetables were excellent, and overall this is probably the best dish I have had at Li's (for sure it seems to be one of the best items on the lunch menu).
Citrus Chicken was disappointing because it was not the same as Moon Day's version (and I think think this is one of the recipes they got from Lili when they bought the restaurant from her). Li's also refers to this as orange chicken, although I think it is better than the average orange chicken at other restaurants. The sauce here is not extremely sweet and it contains orange peels. Some reviewers say there is not much chicken flavor because of the breading, and it is true that this might be an issue. Moon Day had a whole chicken breast with a very light breading (it was somewhat like the breading on a German schnitzel). The way Li's Cafe has changed the chicken has made it a different dish, although I think the sauce is still good.
Conclusion
The lunch specials here are definitely a good deal–it is hard to beat the flavor and quality of food here for the price you pay. My favorite lunch is the fragrant chicken but there are many dishes I have not tried.
For me they have extended the time I can get lunch past the 3:00 p.m. deadline, but I do not know their exact policy on this. I just know that because it is a family run business they are free to do things to help out the customer, and they have been very generous in doing this with me.
The hot jasmine tea is brewed in a large pitcher, and it is so good this has been a deciding factor at times concerning whether I go to Li's Cafe or another restaurant.
I know they do not try to make the food authentic as it was at Moon Day, but I definitely think Lili has had an influence on the new owners by the sauces being less sweet and having a better flavor than at other restaurants, and by a high quality I find in the food. There is no MSG in the food here, and I can tell that the food and sauces are freshly made. Overall I have enjoyed what I have had here. If possible, though, go at lunch (the dinner prices are fairly close to Sun Garden, and I think Sun Garden has some very good choices that make it more attractive to me).
---
RATING: 22
Cuisine: Chinese
Cost: $$ (Lunch $)
Hours: Open Daily
Accessible: Yes
Smoking: No smoking
Most Recent Visit: Jun. 12, 2019
Number of Visits: 8
Best Items: Fragrant Chicken, Szechwan Pork, Hot and Sour Soup
Asian Food Details