Interurban (Closed)

6100 W. Memorial Rd.
Oklahoma City, OK
---
My latest visit to Interurban came as a result of hearing that the Memorial Road location is closing permanently on September 27, 2020, and wanting to go back "one last time." Interurban has been operating since 1976, with this locating being open since 2008. I have watched this "mini-chain" evolve from a very old school Oklahoma style restaurant which I really liked to one that "updated" its menu too much for my liking, to one that I now enjoy very much again (although there are a few things on the menu that I think do not quite hit the mark).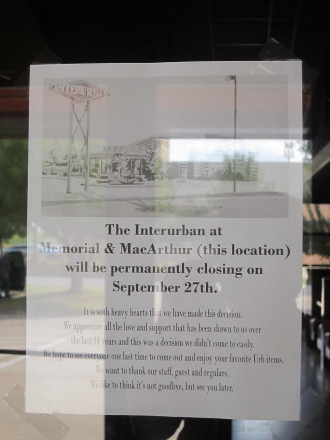 The sign on the front door announces the closing, although some web sites report that it will become a HunnyBunny Biscuit Co. (a breakfast and lunch concept which I understand is owned by the parent company of Interurban). The staff informed me that the Edmond, Yukon, and Norman Interurban restaurants will remain open, but that there will be no locations in Oklahoma City proper.
Interurban is a casual eatery, and probably most popular at lunch. There is nothing fancy here, just American food with much of it having a Southwest flavor. At times they have had items such as Italian and Cajun dishes but some of this has now been dropped (and I believe one of their newer items is teriyaki chicken). There is a fairly large Mexican menu that seems to be very popular.
The bar is more prominent than would usually be fitting for a "family restaurant," but Interurban is not loud or in any way undesirable as a place to take the kids. Throughout the years I have mostly gone because of their very good hamburgers available with a barbecue sauce which is a variant of a local style of hickory smoke sauce.
Burgers
Sometime after the 1980's Interurban dropped the hamburger with barbecue sauce from the menu, and this led to my taking the restaurant off of my regular rotation. I did like some of the other items, but at times when I came back to Oklahoma for visits I was mainly seeking my old favorites, one of which was this hamburger that Interurban no longer had.
One time when visiting the Memorial Road location, though, I told the waiter that I missed the "old" food from the restaurant including this hamburger, and he said they sometimes ran it as a special but could make it any time on request. They call it barbecue sauce instead of "hickory sauce," and although it was not officially on the menu I was very glad I could get it.
I had a very interesting experience in 2020 when I was able to order this burger and the one at Johnnie's Charcoal Broiler on successive days, in order to do a taste test. First I will say that Interurban's burger did exceeding well in my taste test (as did Johnnie's), and there are several reasons why I think some would want to order this burger instead of the one at Johnnie's (although I would recommend trying both of them if you are so inclined).
To me the the patty alone is reason enough to try Interurban's version of the burger (they have several topping combinations that do not necessarily include the barbecue sauce, and I think any of them would be good). The patty is quite large, cooked perfectly with a slight amount of pink color, and consists of a very high quality ground chuck. This type of burger really takes me back to the 1970's and 1980's when I think there was more of an emphasis on high quality meat.
The sauce was interesting because at first it tasted very sweet and definitely on the spicy side (so much so that I was unsure that it was the same sauce I used to like). I found out, though, that it really blends perfectly with the flavor of the meat and bun. I ordered the Old Fashioned Burger (the least expensive burger on the menu) with the regular toppings on the side and the barbecue sauce on the side as well. They do not charge extra for the sauce, and this way any first time customers can try it out to see if they like the sauce. Of course it will have to be at one of the other Interurban restaurants which are still open.
The burgers are not charcoal broiled here as they are at Johnnie's, so I am not sure how much of a factor this would be for many people in choosing one burger over the other.
The Theta Burger has the same sauce but with a lot of other ingredients (including mayonnaise and a mound of grated cheese). Technically this is the only burger on Interurban's menu that comes with barbecue sauce, but the restaurant works with customers to give them whatever toppings they want.
The French Fries have varied quite a bit, ranging from very good to being on the greasy side. I think a better choice usually is the Sweet Potato Fries (shown in the photo of the Old Fashioned Burger).
Sandwiches
The restaurant has a wide variety of sandwiches, and they seem to change from time to time as does the rest of the menu.
On paper at least, the Honey Chicken Sandwich sounded like one of the better choices. However, it turned out to be somewhat of a disappointment because of the chicken (which I thought was average), and even more so for the sauce (which I thought had a clash of flavors rather than a blend of the various components). The bun was good, and I especially liked the fact that red (and flavorful) tomatoes were served. The bacon that topped the sandwich I would describe as average, but an enhancement to the overall flavor.
The Okie Pig caught my attention, though, because it is an original item from the 1976 menu. It comes with the Interurban barbecue sauce (or you can get Louisiana hot sauce). Unlike the honey chicken I thought this had a good mix of flavors. The bun was very good, and even though this was a sandwich it made a very filling dinner. Like the chicken sandwich I thought the meat on this one was average, but overall I liked it much better because of the toppings. Note: It is not on the menu as of 2020.
Specials
Hamburgers are served at a reduced price all day on Tuesday, and they also have family meals every night except Tuesday and Sunday (they are listed on Interurban's on line menu).
In A Nutshell
The hamburgers are definitely among my favorites in Oklahoma City, and are the main reason I have come to Interurban over the years.
I believe that asking staff for suggestions is also a good strategy if you are not sure about what to order. The one thing I have not tried that I have heard is worthwhile is some of the Mexican items (the waiter on my most recent visit recommended the fish tacos). I am sure, though, that there are other treats on the menu yet to be discovered.
Update Aug. 2021: This location is now a HunnyBunny Biscuit Co. restaurant (owned by the parent company of Interurban). Another note: the Yukon location is at 11316 W. Reno Ave.in Oklahoma City (but with a Yukon postal address).
---
RATING: 23
Cuisine: American
Cost: $$
Hours: Open Daily
Accessible: Yes
Smoking: No smoking
Alcohol: Full Bar
Additional Locations: Edmond, Yukon, Norman, Tulsa, Chickasha, Ardmore, Duncan
Most Recent Visit: Sep. 17, 2020
Number of Visits: 6
Best Items: Hamburgers, Sweet Potato Fries, Okie Pig (no longer on the menu)
Special Ratings

| | |
| --- | --- |
| | Hamburger |
| | Honey Chicken Sandwich |
| | Okie Pig |
| | French Fries |
| | Sweet Potato Fries |