Grand House Asian Bistro

2701 N. Classen Blvd.
Oklahoma City, OK
(405) 524-7333
---
Grand House is probably the most well known Chinese restaurant in Oklahoma City's "Asian District" along Classen Boulevard, and is certainly one of the most popular. Serving "bistro style" food, it dares to offer something different from the standard Chinese buffet or lunch combination with egg roll and hot and sour soup. At Grand House there are different menus, and customers can get the more recognizable American style dishes or order more traditional food from the Chinese menu. Either way, I find the food to be higher quality than at most restaurants.
Bistro restaurants can sometimes charge higher prices, and it is true that Grand House charges extra for such items as fortune cookies. However, I do not mind paying for high quality, good service, and a much better choice of traditional Chinese dishes than I can find at just about any other restaurant in the city. The décor, jazz or similarly pleasant music played over the sound system, and even the hot brewed tea, have all made me feel that it is a special experience to go to Grand House.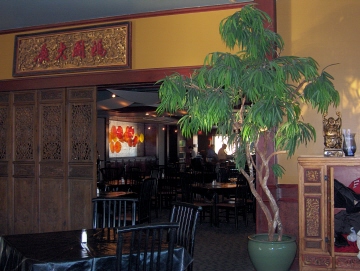 Dim Sum
Grand House is probably best known for its dim sum. These traditional Chinese small dishes are served on Saturday, Sunday, and holidays until 3:00 p.m. Even at a late hour dim sum trays are still floating around, and the selection of items does not seem to suffer (except, in my experience, for the desserts).
One of the best parts of the dim sum is the selection of desserts that are available. Most come with two or three pieces, so they are best for sharing or taking home the leftovers.
After talking to several of the employees I have concluded that the regular (non-dessert) dim sum mostly comes with MSG. Some small dishes can be prepared in the kitchen dim sum style without MSG, but it is really just the regular menu that they give you in a smaller portion. Probably the best example of this is the Chinese broccoli shown in the photo below.
Currently Grand House and Fung's Kitchen are the only restaurants I know about that serve dim sum in Oklahoma City. I think the dim sum at both places is very similar and at both the dim sum is pre-made (meaning that you cannot usually ask them for a special order that does not contain MSG). I like the flavor and the variety of the dim sum at Grand House, and some items have more MSG than others. I thought Fung's Kitchen had good dim sum as well but I do not have as much experience with it as at Grand House. I know that the dim sum at Grand House does not seem to have an excessive amount of MSG that the average person would notice, and for those who do have a problem the staff would be able to advise customers which ones they should avoid. I am not as sensitive to MSG as I used to be, and I believe that I would not have a problem with ordering the dim sum here.
As mentioned, the Chinese Broccoli order shown in the picture is not technically a dim sum item, but is prepared in the kitchen and can be made without MSG. This vegetable seems like pretty standard Chinese food to me, but it is surprising how few other restaurants serve it (and I believe Grand House also has it on non-dim sum days).
The Steamed Shrimp and Leek dim sum was one of my favorites in terms of flavor (the fried shrimp and leek dim sum was also very good, and did not seem to have as much MSG).
The Leek Dumplings with shrimp were good items from the "fried dumpling" category. At times I have been able to order them from the kitchen without MSG, although I have had no luck with this since about 2010. This dish comes with a sweet and sour sauce that is very well done– not the syrupy glop served at most restaurants.
The Congee (rice porridge) had enough ginger and other flavors to taste much better than it looked, and has been one of my favorite choices. Grand House servings are quite small, and I have found that I can go across the street to Golden Phoenix for a much larger bowl at about double the cost (but more than double the quantity). I also think the one at Golden Phoenix does not have as high a concentration of MSG. Still, the congee at Grand House was a good example of this dish.
Sticky Buns are steamed, but I am not sure about their MSG content (at least I did not seem to get a reaction from eating them). I do not think they are as flavorful or interesting, though, as other items such as the fried or steamed dumplings.
Desserts from the dim sum tray are MSG-free, and I usually try to order at least one of them when they are available.
The Flan was fresh and good, but probably not the most impressive item served.
The Sesame Balls were excellent, and I think are one of the best desserts served. The sesame balls contain fruit inside, which may vary from time to time.
The Chinese Menu
Ordering from the menu involves choosing from three menus– dinner, lunch, and the Chinese menu. Patrons are automatically offered a lunch or dinner menu, depending on the time of day, but one frustration I have had is that they do not automatically offer the Chinese menu. I either ask for it or pick it up at the counter, but I can see that some people may come to the restaurant and not know that it even exists. In my opinion it is definitely worth asking for the Chinese menu here unless a person is specifically in the mood for one of the lunch selections (which are offered at a good price), specifically knows what they want from the regular menu, or is in a time crunch (my experience is that traditional food from the Chinese menu typically takes a little longer to cook).
The Chinese menu has English descriptions for non-Chinese speakers, but I understand that it is not always easy to know what you are getting into when you order something for the first time. I think Grand House is a good restaurant no matter what is ordered (or at least with almost anything that is ordered), but it may be worth it to try things here that are hard to find just about anywhere else.
One of the best items I have tried from the Chinese menu was Tofu with XO sauce. The sauce had a scallop flavor and seemed to be one of the better examples of complex Chinese cooking. If the name "XO sauce" sounds somewhat foreign and mysterious, I think this is an intentional way of denoting that this is a highly evolved sauce and that you are getting more than the typical Chinese brown sauce (and in this case I did find the XO sauce to be quite good). Note: I cannot find this dish on the 2020 Chinese menu but I think it might be available if you request it, and they do have squid with XO sauce.
Some other of my favorites are clay pot dishes, listed as Casserole Dishes on the Chinese menu. The tofu and vegetable casserole I tried on an early visit had one of the best sauces I have tasted in OKC, although the vegetables were not as exciting as at Dot Wo. (However, I am qualifying my earlier reviews because I now think Grand House has improved many of its earlier weak points).
The Hot Pot with Stuffed Tofu was a casserole dish they made by special order, and was excellent all around. Once again this proved to me that Grand House makes one of the best brown sauces in the city (and in fact all of their sauces seem to be very good). This did not have a lot of vegetables, so I would say that normally this dish should be ordered family style along with other items which would have a better vegetable selection.
I have ordered the Roasted Pork and Tofu Casserole on several of my recent visits including September 2020 when I took the above photo. This version of the casserole has a good vegetable selection–the snow peas were very prominent, and I enjoyed the water chestnuts and the two types of mushrooms as well. The sauce was as good as ever, and I think Grand House knows the proper way of cooking tofu for a casserole dish. The meat consisted of fatty pork (the traditional style, which is probably why this dish was listed on the Chinese menu). The amount of meat included made me think that this dish, like several others I have tried, was really meant as a family style dish rather than just for an individual.
Noodle Soups are offered on both the lunch and dinner menus– the staff suggested that I try the one with wontons and it turned out to be very good.
The noodle soup with chicken (pictured) turned out to be less flavorful, with a clear broth and not much else to liven it up. I will have to say that I was expecting something better since the same soup is also listed on the Chinese menu. In fact, the "Cantonese Style Noodles in Soup" on the Chinese menu are the same as the ones from the regular menu except they are available with different meats and five types of noodles. Just as I liked the wonton soup better than plain chicken, though, I am sure that other types of substitutions could also make a difference.
Cantonese Style Pan Fried Noodles are offered on both the lunch menu and the Chinese menu, and are offered either "wet" or "dry" (the "dry" ones come with a delicious light brown sauce). Although I have enjoyed the flavor of this dish, it came with very few vegetables and was overloaded with onions. One order gave me a MSG reaction, even though I had asked for it to be prepared without MSG (but again I need to state that some of the problems I experienced on my early visits do not seem to be happening at present).
While beginning to explore the Chinese menu I took a stab in the dark by ordering Tofu a la Fu-jjiang Style. This was partly because it was one of the less expensive items and partly because it seemed to be something not served at very many restaurants. I was actually surprised at how good it was, considering that some dishes turn out to be different than I expect. The Fu-jjiang tofu was good all around: the seafood, sauce, and vegetables were all excellent (and of course, tofu by its nature does not have a lot of flavor, but nevertheless was good in this dish). A large sign in front of the restaurant advertises that Grand House is a "seafood" restaurant, and in this case I think it turned out to be one of their better items. The largest listing on the Chinese menu is for seafood items, it is just that many of them are more expensive than I would like to have for lunch.
Regular Menus
What I call the "regular menus" are the ones they give you by default when you sit down, and they do have some authentic Chinese dishes listed. Some of the more authentic Chinese dishes are on both the Chinese and the "regular" menus, but I think the main purpose of the regular menus is so that customers will not experience the long preparation times that come with some of the more traditional dishes. In addition, though, some of the dishes from the Chinese menu are meant to be served family style where several people are sharing a variety of dishes.
The Kung Pao Chicken was one item from the regular menu that I found to be quite good– the sauce was thick with a rich flavor as opposed to the thin, runny sauce found at many restaurants.
The Hot and Sour Soup was excellent, although probably not my favorite in OKC.
Some Vietnamese dishes are available on the dinner menu such as Vermicelli Noodles with Chicken— I tried this and it was quite good.
Other Features
Grand House has traditionally had a large selection of cakes that are sold from a display case in the front of the restaurant (many of them come from La Baguette). Bakery items are not just a way for the restaurant to make extra money– they are high quality to go along with the restaurant's "bistro" concept. This was no longer available during the pandemic in 2020, however.
Some Additional Details
Both the strength and weakness of Grand House lie in the fact that they do everything on a grand scale. The menu is huge by Oklahoma standards and can be intimidating, but it also offers more choices than most other restaurants. Some of my best meals have been when business was slow and I was able to ask the manager or the servers what dishes would be recommended.
Dim sum is the most well known feature of Grand House, and it can be fun to choose items from the carts and trays that are brought around to each table. I do not think the dim sum equals west coast standards, either in quality or variety, but I am glad Oklahoma City has any dim sum at all. I have enjoyed the dim sum here, and especially the desserts.
Grand House combines good food and an upscale atmosphere for one of the most pleasant dining experiences in the city. The manager is almost always available, and if there are problems the restaurant does its best to fix them. Grand House is usually open late, and as far as I know is open every day of the year.
A few things were different during the pandemic–the La Baguette cake was not available, they were down to a skeleton staff, and customers were virtually non-existent. The quality of the food was good, though, and I am hoping that everything will soon be back to normal.
---
RATING: 24
Cuisine: Chinese
Cost: $$
Hours: Open Daily
Accessible: Yes
Smoking: No smoking
Most Recent Visit: Sep. 14, 2020
Number of Visits: 10+
Best Items: Roasted Pork and Tofu Casserole, Fu-jjian Tofu, Tofu with XO Sauce, Wonton Noodle Soup, Custard, Sesame Balls
Asian Food Details
| | |
| --- | --- |
| Tea: | Jasmine (brewed) |
| MSG: | Yes |
| Buffet: | No |
Special Ratings

| | |
| --- | --- |
| | Roasted Pork and Tofu Casserole |
| | Kung Pao Chicken |
| | Tofu with XO Sauce |
| | Fu-jjian Tofu |
| | Cantonese Style Pan Fried Noodles |
| | Wonton Noodle Soup |
| | Vegetable Noodle Soup |
| | Rice Noodle Soup with Chicken |
| | Hot and Sour Soup |
Dim Sum Ratings

| | |
| --- | --- |
| | Fried Leek and Shrimp |
| | Steamed Scallop |
| | Chinese Broccoli |
| | Sticky Buns |
| | Sticky Rice Ball |
| | Congee |
| | Custard |
| | Sesame Balls |
Chinese Menu (Sep. 2020):