First Watch
10710 Research Blvd.
Austin, TX
(512) 877-1800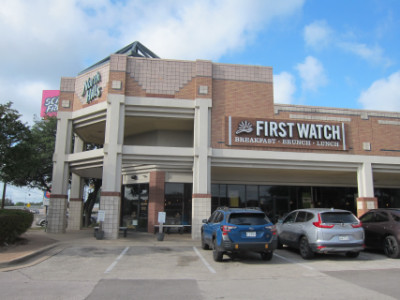 ---
When First Watch opened in Oklahoma City I read about may good experiences people had there, but I never made it there to try it out myself. Information on the Internet says they have 430 restaurants in 28 states, but in spite of being a chain they seem to be committed to the food at all restaurants being fresh and local (when possible).
Eating at First Watch did answer many of my questions about why the now closed restaurant in Oklahoma City had been so popular. For one thing, the menu is fairly large, and it is definitely more upscale than going to the typical roadside diner. The restaurant in Austin was not all that busy when I arrived but a long line of people formed outside once it got a little closer to the lunch hour. When I found out the size of the meals here I realized that eating here is likely going to be enough for both breakfast and lunch.
I did not spend a lot of time studying the menu but they do have a wide variety of choices. In fact, it seems to be the breakfast answer for a family or group of people who all have different tastes but want to go to a restaurant where all of them can order something they like.
Classic Benedict

Eggs Benedict was a dish that not every breakfast restaurant serves, but that I could use to compare with some of the better restaurants I had tried in other cities. The salad that comes with the one here is something that I am not sure is typical of most restaurants, but I thought it was a good way to help me start the day (especially since I was having some stomach problems that incidentally were later determined to be unrelated to any of the restaurants I visited and which are reviewed on this blog).
The sauce here was good but probably did not help my stomach issues, and in hindsight was not my best choice. The eggs were cooked well. The salad probably did the most out of the meal to help settle my stomach, and was enjoyable as well.
I also sampled some of the pancakes that one of my friends ordered, and this might have been an even better choice than the one I made.
Other Comments
Some of the good points here include the fact that there is a large choice of items, the eggs are cage free and mine were very good, the food is fresh, and the service was very good.
There was nothing that would make me not want to come back, but for me some of the flavors of what I ordered were a little disappointing. I am a little out of my element in coming to a breakfast restaurant, and I have a relatively limited number of experiences at other restaurants, but I have had eggs Benedict at other restaurants that were more flavorful. The eggs here, though, were top notch and cooked the right way.
The size of my plate was larger than I expected and reminded me of the "Lumberjack breakfasts" they have in the Pacific Northwest (although I am not sure this is an aspect of the meal I would really complain about).
---
RATING: N/R