Crawdaddy's Bar and Grill

212 Cincinnati Ave.
El Paso, TX
(915) 533-9332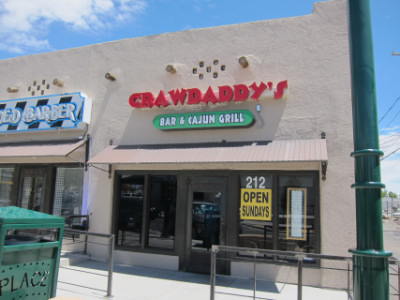 ---
Crawdaddy's web site says they have the best Cajun food in El Paso, and I believe this may be true. I am fairly certain that they have the the most extensive menu of Cajun dishes, while other restaurants I have visited might have two or three dishes at the most.
Crawdaddy's is located in the Kern Place Entertainment District, an area known for its night life with the bars located about 50 feet apart from each other (Crawdaddy's is one of the most popular ones). Although it is a restaurant as well, it is anything but one where you would want to spend a quiet evening (although at lunch I think people are there more for the food than the drinks). I would like it better if they played Cajun music, but at least what they have is not so loud that you cannot talk to others at the table.
One thing I like here is that the food is Cajun–not Creole or some takeoff on Cajun food like many restaurants have. Not everything is fried, although much of it is. I do not think I even know which are the best dishes here because there are so many I have not tried.
It is primarily a seafood restaurant with a fairly good choice of chicken (and also has pulled pork). True to many Cajun restaurants it does not seem to have anything that is vegetarian.
Dinners

Blackened Tilapia is the only thing I have had here from the dinner menu, although there are several choices besides this one. This dinner is topped with crawfish etouffée, although the kitchen did not include it and I had to ask the waiter to bring the etouffée to me. The lesson here is that you might want to read the menu carefully or else you might miss out (I thought the topping was a good enhancement to the dish). In fact, I thought the topping had most of the flavor, and I really could not tell that the fish was blackened by tasting it (although the menu stated that it was). I am usually of the school who likes the flavor of fish and do not want other flavors to overwhelm it, but I have had plenty of tilapia and I think what they did to this dish made it much more interesting (and I liked the flavor).
Soups

I have had the Red Beans and Rice on several occasions, and this may be the best item here in terms of flavor. The only thing is that it is not really a meal, and is listed on the menu under the "Soups" section (and comes with French bread). It is full of flavorful spices although I would say they are not the kind of spices that would register very high on the capsaicin scale.
To me the Gumbo has a good flavor but it does not seem to have a lot of the spices that would give it a Cajun flavor. It contains chicken, though, and if you get the large size (the bowl) it would probably make a suitable lunch or light dinner.
Jambalaya is another item from the "Soups" menu that might be good for a light meal. It comes with sausage and okra in a tomato flavored sauce. This was medium spicy, so along with the excellent ingredients I think this makes it a winner when it comes to side dishes or a small meal (depending on whether you get a cup or a bowl).
One good possibility is to get the Soup Sampler which contains a cup of each of these three soups.
Other Comments
I particularly like lunch here because finding parking is a lot easier and the restaurant is not as loud or crowded. Actually I have not been here for dinner in quite a few years so perhaps things have now changed, although I doubt that the parking situation is any better.
I have ordered red beans and rice just about every time I have come, and I noticed a difference in its spiciness on different occasions. This and other things have shown me that the kitchen is not entirely consistent (such as the time they failed to give me crawfish etouffée with the tilapia). I will make note, though, that Crawdaddy's used to have a location on Viscount Blvd. so I think the owners were not able to have as close supervision of the restaurants as they can now with only one location.
The red beans and rice and the jambalaya are very good for Cajun food I have had outside of Louisiana. Some other dishes fall a little bit short for my taste, but overall I think they make a good attempt. Even on the dishes where I think the flavor is not quite there, I am still impressed with the quality of the ingredients.
At least when I come here I feel like the owners have been to Louisiana and know what the food is supposed to taste like.
---
---
RATING: 21